We look at gold's vital diversification benefits in the latest edition of Executive Global.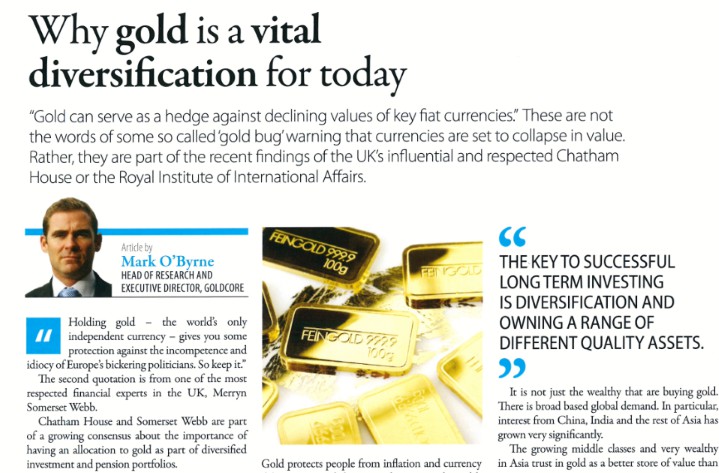 "Tis the part of the wise man to keep himself today for tomorrow, and not venture all his eggs in one basket" - Cervantes in Don Quixote in 1605 
The key to successful long term investing is diversification and owning a range of different quality assets. 
Gold has been shown to enhance returns and to reduce overall volatility over the long term. This was clearly seen during the financial crisis when gold was one of the very few assets to surge in value."
Read the full article "Executive Global: Why gold is a vital diversification for today"
DAILY PRICES
Today's Gold Prices:  USD 1164.20, EUR 1021.54 and GBP 758.14 per ounce.
Friday's Gold Prices:  USD 1151.50, EUR 1016.42 and GBP 749.01 per ounce.    
(LBMA AM)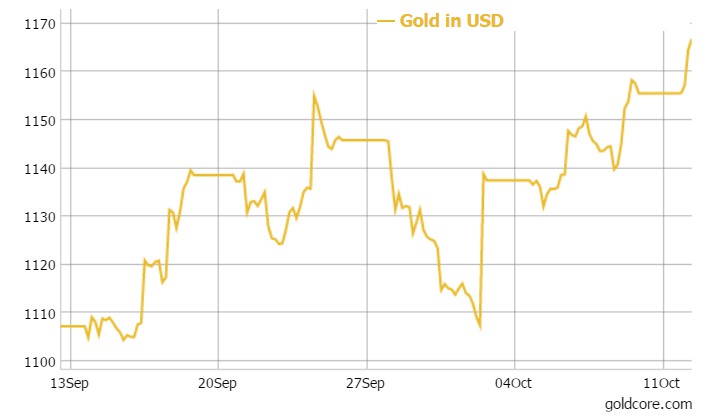 Gold in USD - 1 Month
Gold is up another 1% this morning, consolidating on last week's 1.7% gain, and has touched a 7-week high at $1,167.30/oz. The metal has picked up some upward momentum after breaking decisively through its 100-day moving average (currently 1141) last week.
Silver, platinum and palladium are all also stronger, with silver leading the precious metals higher again. Silver is also up 1% after surging another 3.8% last week, its biggest weekly rise since mid May
IMPORTANT NEWS
Gold Strengthens as Investors Optimistic About Demand – Wall Street Journal
Gold near 7-week high as traders see delay in US rate hike – Reuters
Bad Economic News Has Been Good for Precious-Metals Investors – Bloomberg
Gold hits seven-week high amid soft US dollar – The Bullion Desk
House prices tumble as buyers caught in a rent/deposit 'Catch 22? – Independent
IMPORTANT ANALYSIS
Commodity contagion sparks second credit crisis as investors panic – The Telegraph
Prime Minister 'squandered' chance to tackle Brexit – The Telegraph
U.S. FIAT MONETARY SCAM: $100 Bill vs Gold – GoldSeek.com
When the Aristocracy Leaves the Commoners in the Dust, The Empire Is Doomed – Oftwominds.com
We're in a New Recession-John Williams – USA Watchdog
Read more News & Commentary on GoldCore.com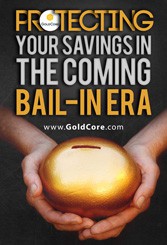 Download Protecting Your Wealth in the Coming Bail-in Era