Bayer Aktiengesellschaft BAYRY announced that it has enrolled the first patient in a phase III study ASTEROID which will evaluate vilaprisan in women suffering from uterine fibroids.
Bayer's share price shows that the company has outperformed the Zacks classified Large Cap Pharmaceuticals industry year to date. The stock is up 23.4% compared with industry's gain of 12.1%.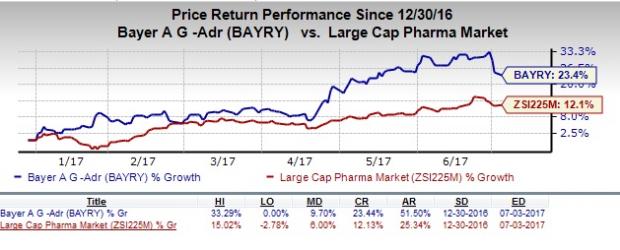 Moving ahead, the ASTEROID study plans to enroll 3600 patients at about 900 centres and is expected to be complete in three years. The study will include several studies, and assess the efficacy and safety of vilaprisan 2mg in patients with symptomatic uterine fibroids. The efficacy measures will include the effect on heavy menstrual bleeding, reduction in fibroid size and improvement in quality of life.
Notably, the design and dosing of the phase III study was based on promising results from the ASTEROID phase II study (ASTEROID 1+2) investigating vilaprisan in patients with symptomatic uterine fibroids. ASTEROID 1 -- a phase IIb study -- assessed four different doses of vilaprisan compared to placebo in patients with symptomatic uterine fibroids.
ASTEROID 2 was a Phase IIb study that assessed vilaprisan in patients with symptomatic uterine fibroids compared to placebo and ulipristal acetate (Esmya). The study evaluates systematically the efficacy and safety of different treatment regimens of progesterone receptor modulators (PRMs) in women with uterine fibroids. First results of ASTEROID 2 will be presented at an upcoming scientific congress.
Bayer has a robust pipeline ranging from phase I to phase III development. Interesting late-stage candidates include BAY 1841788 (ODM-201, AR antagonist; non-metastatic castration-resistant prostate cancer), BAY 1841788 (ODM-201, AR antagonist; metastatic hormone-sensitive prostate cancer), copanlisib (PI3K inhibitor; various forms of non-Hodgkin lymphoma) and finerenone (MR antagonist; diabetic kidney disease) among others. Bayer believes six of its pipeline candidates -- vericiguat, finerenone, vilaprisan, BAY-1841788, anetumab ravtansine and copanlisib -- will hold combined peak sales potential of at least €6 billion. The company plans to launch at least 20 products by the end of 2023.
There are other companies that have been evaluating candidates for uterine fibroids. In Apr 2017, AbbVie Inc. ABBV along with Neurocrine Biosciences, Inc. NBIX announced positive results from a phase IIb study evaluating its pipeline candidate elagolix for reducing heavy menstrual bleeding in premenopausal women with uterine fibroids. Data from the study showed that elagolix met its primary endpoint by significantly reducing the number of heavy bleeding days rapidly within the assessment period of six months from the baseline in comparison to a placebo, utilizing the alkaline hematin method.
Bayer AG Price and Consensus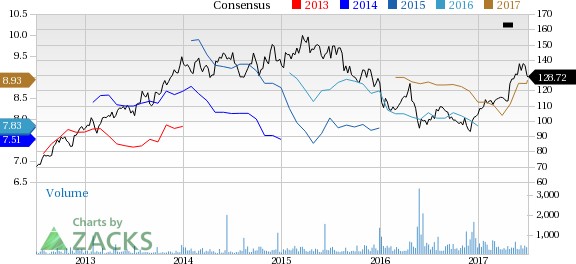 Zacks Rank & Key Picks
Bayer currently sports a Zacks Rank #1 (Strong Buy). Another health care stock with the same Zacks Rank is Enzo Biochem, Inc. ENZ. You can see the complete list of today's Zacks #1 Rank stocks here.
Enzo Biochem's loss per share estimates have narrowed from 12 cents to 7 cents for 2017 and from 11 cents to 3 cents for 2018 over the last 30 days. The company delivered positive earnings surprises in all the trailing four quarters, with an average beat of 55.83%. The share price of the company has increased 61.1% year to date.
Today's Stocks from Zacks' Hottest Strategies
It's hard to believe, even for us at Zacks. But while the market gained +18.8% from 2016 - Q1 2017, our top stock-picking screens have returned +157.0%, +128.0%, +97.8%, +94.7%, and +90.2% respectively. And this outperformance has not just been a recent phenomenon. Over the years it has been remarkably consistent. From 2000 - Q1 2017, the composite yearly average gain for these strategies has beaten the market more than 11X over. Maybe even more remarkable is the fact that we're willing to share their latest stocks with you without cost or obligation. See Them Free>>
Want the latest recommendations from Zacks Investment Research? Today, you can download 7 Best Stocks for the Next 30 Days.
Click to get this free report
AbbVie Inc. (ABBV): Free Stock Analysis Report
Bayer AG (BAYRY): Free Stock Analysis Report
Enzo Biochem, Inc. (ENZ): Free Stock Analysis Report
To read this article on Zacks.com click here.
Zacks Investment Research