Despite O&G commodity price turmoil, CBI remains relatively uninfluenced due to its niche contractual target market.
Second quarter results showed solid performance on the backlog/revenue picture along with OPMs.
Management continues to improve financial flexibility, thus igniting value creation for shareholders.
At 6.5x earnings, the equity trades at a ~40% discount to its 5-year historical average.
Prescience Point's bear case, while plausible, remains questionable given cloudy assumptions and respective financial interests.
Chicago Bridge & Iron Company (NYSE:CBI) operates through four different segments including engineering/construction/maintenance, fabrication services, technology, and capital services. Given brand recognition through industry expertise, the company has developed strong relationships with corporate clients being both large and small. Over the last two years, shares have declined about 50%. At first some believed this weakness was mostly weighted toward the price weakness in oil: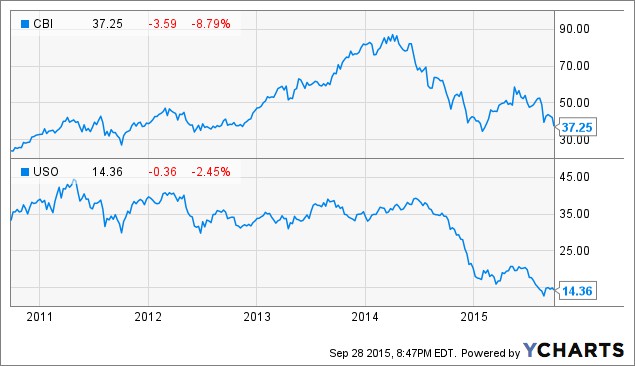 While the declines in WTI/Brent and natural gas do have a material impact on additional contracts, particularly for upstream spending, CBI remains relatively unaffected. The primary point of concern was the Shaw acquisition given the quality of operations and respective revenue streams. If we look back to the company's 2011 annual report, we will see that management recognized losses from adverse court verdicts, impairment charges, higher operating costs, and otherwise. While the backlog of 20 billion and 120mm in OCFs appeared strong, investors could not simply discount these negative items as one-time charges that plainly caused an earnings loss. In a sense, these were expected to be somewhat recurring given the quality of how job processes were performed by the company at that time.
Secondly, Prescience Point emphasized the possibility that Shaw's poorly constructed contracts would develop a trend of serious earnings losses. As claimed by the research firm, management utilized cookie jar accounting to deceive analysts and funds by growing the revenue stream while hiding associated costs that were rapidly increasing. The firm slapped a price target range of $33 to 41 onto the business given building weaknesses particularly related to the nuclear projects. If one wishes to view the thesis and equity report one can see it here. However Prescience Point's short idea is principally flawed at its roots if we inspect a few of their claims (I will discuss this portion later).
O&G Chaos? No Problem.
Within CBI's 2014 annual report, the company emphasizes their limited exposure to upstream oil companies which utilize the largest capital spending plan given the nature of their ongoing processes of searching and drilling for energy sources [one of their customers being CNOOC (NYSE:CEO)]. For their operating narrative, management stated the following:
Looking forward, our healthy, robust backlog and our complete, integrated services give us confidence heading into 2015. Only a small percentage of our backlog is exposed to upstream end markets. So despite the uncertainty caused by the price of oil, we expect little impact to our revenue and earnings...
More