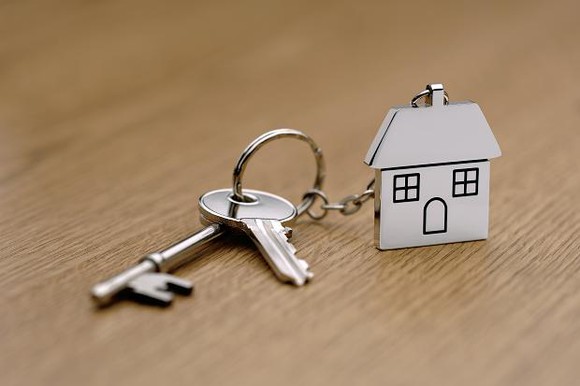 Image source: The Speaker. Republished under CC BY 2.0.
The main mortgage rates were essentially unchanged on Friday. The average 30-year mortgage rate is 3.86%, which equates to a $469.38 monthly payment per $100,000 borrowed, or $22.57 higher than the equivalent payment would have been a month ago.
If you were to opt for a shorter term, the average 15-year mortgage rate is 3.01%, which equates to a $691.54 monthly payment per $100,000 borrowed, or $13.87 higher than the equivalent payment would have been a month ago.
| Rate (National Average) | Today | 1 Month Ago |
| --- | --- | --- |
| 30-year fixed jumbo | 4.43% | 4.44% |
| 30-year fixed | 3.86% | 3.46% |
| 15-year fixed | 3.02% | 2.73% |
| 30-year fixed refi | 3.90% | 3.49% |
| 15-year fixed refi | 3.09% | 2.75% |
| 5/1 ARM | 3.24% | 2.95% |
| 5/1 ARM refi | 3.62% | 3.09% |
5/1 ARM: ADJUSTABLE-RATE MORTGAGE WITH AN INITIAL FIXED 5-YEAR INTEREST RATE. DATA SOURCE: BLOOMBERG. RATES MAY INCLUDE POINTS.
Mortgage rates may have risen, but that needn't deter prospective homebuyers
One of the obvious questions that the post-election spike in mortgage rates raises: What will be the effect on the housing market? Bloomberg Intelligence takes the question on in a note published today, and this is what it concluded:
It took a three times larger increase in mortgage rates to arrest improvement in housing demand back in 2013 in the aftermath of the temper tantrum [provoked by Ben Bernanke's suggestion that the Federal Reserve would reduce its bond buying program]. The economy is at a better footing three years later and the increase in rates largely reflects rising growth expectations beyond. So far, the increase in bond yields and mortgage rates is unlikely to halt the housing recovery. However, if rates continue their climb, policy makers may soon find it necessary to intervene, presumably through counter-offensive public comments.
On a year-long chart, the recent increase in the 30-year mortgage rate looks violent: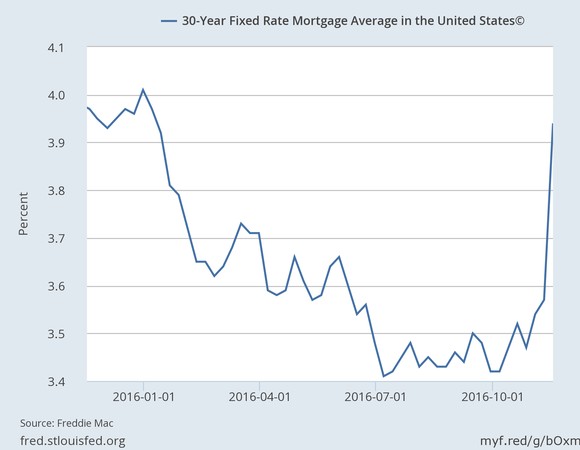 But let's put that move in perspective. On a multi-decade scale, the rate remain very near historical lows: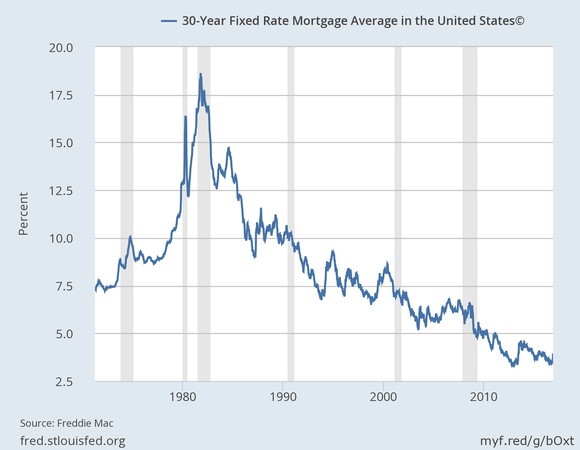 As I wrote earlier this week, prospective homebuyers may want to consider taking the plunge sooner rather than later, but whether they are paying 4% (or even 4.5%) instead of 3.5%, it remains, by historical standards, an extremely attractive proposition.
The $15,834 Social Security bonus most retirees completely overlook
If you're like most Americans, you're a few years (or more) behind on your retirement savings. But a handful of little-known "Social Security secrets" could help ensure a boost in your retirement income. For example: one easy trick could pay you as much as $15,834 more... each year! Once you learn how to maximize your Social Security benefits, we think you could retire confidently with the peace of mind we're all after.Simply click here to discover how to learn more about these strategies..
Try any of our Foolish newsletter services free for 30 days. We Fools may not all hold the same opinions, but we all believe that considering a diverse range of insights makes us better investors. The Motley Fool has a disclosure policy.