It is hard to believe it is October already and we are in the last quarter of 2015. The fact that the Holidays are right around the corner is even more difficult to ponder, especially if you happen to live like I do in Miami and it is already past 80 degrees before 9am in the morning. Where does the time go?
After treating investors like rented mules in the third quarter and slipping into bear market territory, the fourth quarter is off to a better start for the biotech sector. While not keeping up with the rally in the major indices, at least Biotech has moved up somewhat off late September lows.
Investors should remember that sell-offs in this lucrative but volatile sector of the market occur frequently. The last one was very similar to this one. It happened in early March of last year. The pullback was quick and deep and ran its course in approximately two months. After spending some weeks bottoming after that, it was off to the races again and biotech was one of the strongest market leaders until this latest hiccup.
If this pullback is following a similar pattern, now is the time to pick up some bargains. I have been mainly keeping my new allocations to the sector in recent weeks to the large cap growth names within the market like Gilead Sciences (NASDAQ:GILD), Amgen (NASDAQ:AMGN) and AbbVie (NYSE:ABBV) that already are commercial powerhouses, have great pipelines & balance sheets, pay a dividend and are quite cheap from a long term valuation perspective.
I think now is the time to venture out a bit on the risk curve and buy some small caps that have been hit hard but have new products that should be approved soon which should boost their stocks significantly. Here is a quick rundown on three of these which I have added some shares to my core stakes recently.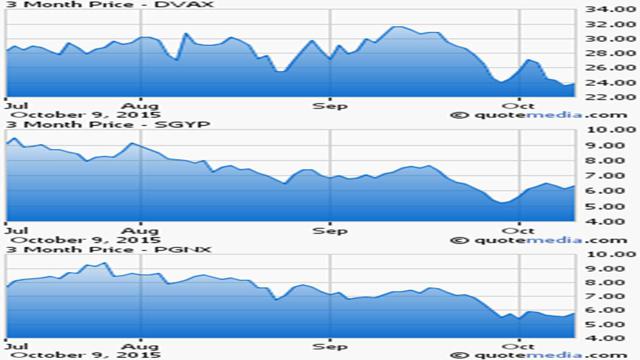 Let's start with Dynavax Technologies (NASDAQ:DVAX), which is down some 25% from recent highs but still up nicely since being added to the Biotech Forum portfolio in the second quarter of this year. The company should announce the results of an over 8,000 person Phase III trial for its main drug candidate HEPLISAV-B by early...
More