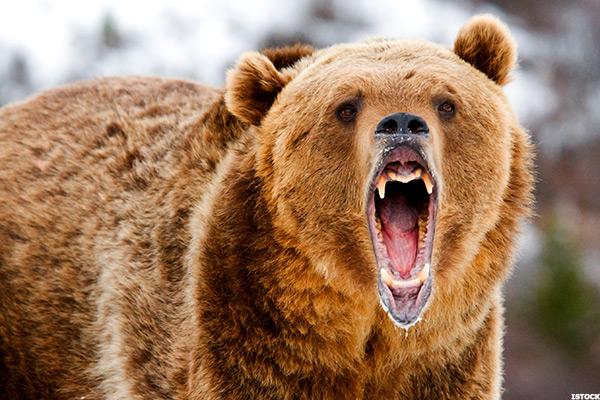 The semiconductor industry is an important segment of the economy as almost every product we buy, from our automobile to our smart phone, contains computer chips. The iShares PHLX Semiconductor ETF (SOXX) is a good benchmark for the 30 largest chip makers.
The SOXX fell from bull market territory at its June 9 high, then began July in correction territory vs. the high. This provides a warning for tech stocks in general and for upcoming economic strength.
Investors looking to buy weakness on semiconductors can consider the exchange-traded fund or choose from its top five components. Broadcom (AVGO) has a weighting of 8.11%, Intel (INTC) has a weighting of 7.09%, Qualcomm (QCOM) is 7.53%, Nvidia (NVDA) is the largest, at 9.82%, and Texas Instruments (TXN) , with a weighting of 7.53%.
While semiconductors warn, July began with a Dow Theory Buy Signal. This old-economy indicator occurs when both the Dow Jones Industrial Average and the Dow Transportation Average set new all-time closing highs as they did on Monday. Strong transports and industrials at the same time means goods are being made and shipped.
When you look at the six momentum stocks profiled on Wednesday, all have products that incorporate semiconductors. For example, Broadcom is a major supplier of semiconductors to Apple (AAPL)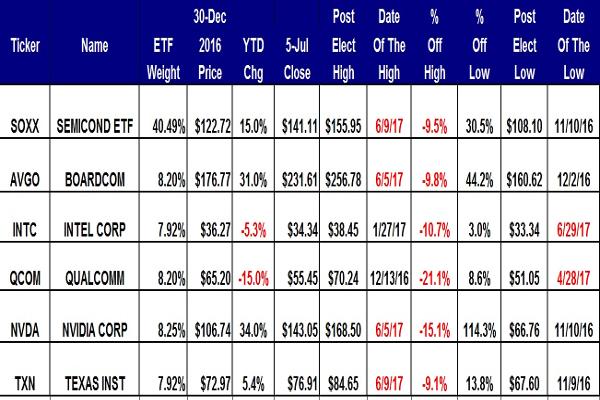 Note the mixed performances. The SOXX ETF is up 15% year to date and is 9.5% below its June 9 high, but it's still in bull market territory, 30.5% above its post-election low. Broadcom and Nvidia are outperforming the ETF year to date and since post-election low, Nvidia is in correction territory vs. its high. The older members on the list Intel and Texas Instruments have year-to-date declines and are in correction territory.
When looking at the weekly...
More