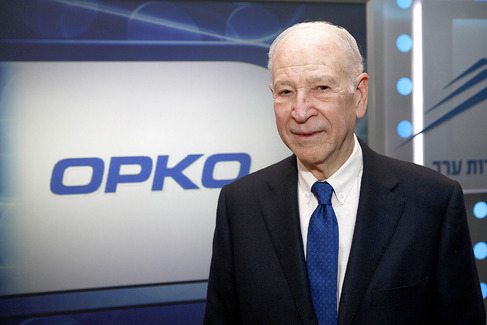 Billionaire Phillip Frost abruptly interrupted a meeting at his waterfront Miami office last month to make a phone call. As short sellers drove down the share price of his company Opko Health Inc., Frost ordered his broker to purchase more stock.
"My father had an expression that I live by," said Frost, 78. "When they're giving, take. When they're taking, give."
Frost, Opko's chairman and chief executive officer, has taken from short sellers for years. Now the tables have turned. After soaring almost 700 percent since Frost took over, Opko's shares have been cut in half since June, and it's still one of the most bet-against U.S. health-care stocks, according to data compiled by Bloomberg. Skeptics contend the company's new products will be disappointing and the acquisition of controversial lab operator Bio-Reference Laboratories Inc. won't pay off.
Opko's announcement in June that it would buy Bio-Reference for $1.5 billion started the decline. Opko issued shares to pay for the purchase, diluting the stakes of existing investors, and in return got a business that also had been targeted for years by short sellers, who said the company struggled to collect payments from customers and used aggressive sales tactics. According to merger filings, Bio-Reference had been looking for a buyer since 2009, and even though 12 potential suitors sought due diligence materials between 2014 and 2015, none made an offer.
The decline in Opko accelerated with the broad selloff of biotech shares that began in July.
'Easy Target'
"When the biotech rout came, it was an easy target for the shorts," said Ori Hershkovitz, chief investment officer at Nexthera Capital, a New York-based hedge fund that doesn't have a position in the stock.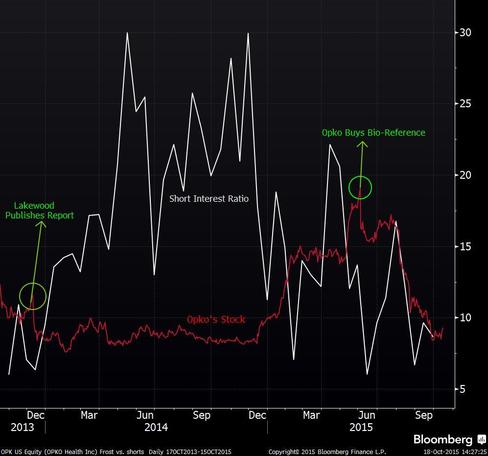 Frost created Opko in 2007, after selling Ivax Corp. to Teva Pharmaceutical Industries Ltd. for about $7.5 billion the previous year. His 34 percent stake makes him the largest shareholder of the unprofitable Miami-based company, which has businesses that include pharmaceutical distribution in Chile and Mexico, drug-ingredient manufacturing in Israel and development of its own proprietary medicines and diagnostic tests. With Bio-Reference, it now also operates a chain of...
More