The chemical industry is back on track after a long detour. Continued strength in the automotive sector and a rebound in non-residential construction and housing markets have helped pull the industry out of its limbo, notwithstanding a persistently challenging operating environment.
The bullish Zacks Industry Rank of 23 carried by the Zacks categorized Chemicals-Diversified industry is a testimony to the fact that the chemical industry is back in favor. An impressive rank places the industry in the top 9% of the 250+ groups enlisted.
The Chemicals-Diversified industry has also outperformed the broader market over the past year. The industry has gained 22.8% over this period, higher than S&P 500's corresponding return of 15.9%.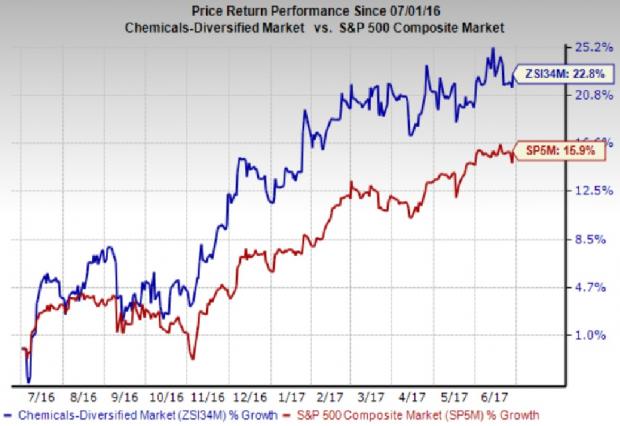 Despite a spate of headwinds, the highly cyclical industry put up a commendable performance in the March quarter. We note that a number of companies in the space came up with better-than-expected earnings in the first quarter. The outperformance was driven by continued strength across automotive and housing markets -- two major end-use markets for chemicals -- as well as strategic measures including productivity improvement, pricing actions, portfolio restructuring and earnings-accretive acquisitions.
Disclosure: Zacks.com contains statements and statistics that have been obtained from sources believed to be reliable but are not guaranteed as to accuracy or completeness. References to any ...
The automotive sector continues its healthy run, backed by an improving job market, low fuel prices and attractive financing options. Chemical makers continue to see healthy demand from this key end market. A recovery across housing and commercial construction markets has been another tailwind for the chemical industry.
While the chemical industry still remains saddled by...
More