Silver production has increased despite falling Silver prices
Twitter and other dialog forums on the web are filled with Silver bulls who claim that miners will not mine when Silver prices fall below the cost of production. Unfortunately, many of the claims made by rabid Silver bulls do not stand up to critical examination.
First, global Silver mining production has actually increased despite falling Silver prices, as shown on the graph below. In fact, since 2011, Silver mining production has increased by 8.6% despite a decline in the average annual Silver price of -32.3%. From 2004 through 2011 — a period with booming Silver prices — global mine production increased by an average of 3.0% annually. Global mine production increased by 4.2% annually since the 2011 price top.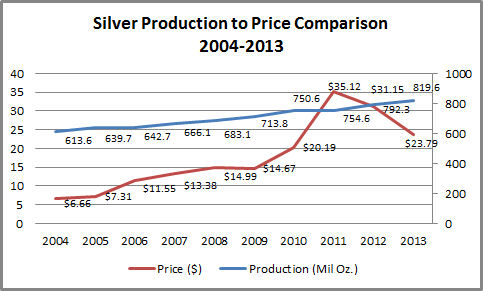 No doubt some small...
More