Mario Draghi, President of ECB (European Central Bank) today about the growth in economy of Euro Zone. The euro zone has made considerable progress to restore fiscal sustainability and economic competitiveness at country level. Euro area governments have markedly improved their fiscal positions as average government deficit ratios fell by more than a quarter over the last 2 years excluding interest payments. Draghi mentioned the main challenges the central bank is facing right now as:
Ensuring price stability in the face of a prolonged period of low inflation.




Setting up the Single Supervisory Mechanism and rebooting the banking system to support credit and growth.

Establishing an effective macro-prudential policy framework to increase resilience in the face of future financial instability.
He said that if properly coordinated at the European level, macro prudential policies will strengthen defenses against financial instability in the euro area while addressing some of the side effects that come from single monetary policy.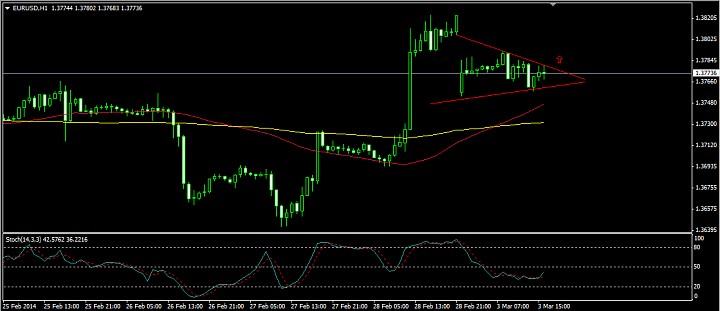 EURUSD didn't show any significant movement on the hourly chart however we can see that the pair is consolidating within the symmetrical triangle. From the stochastic oscillator seems like the pair will break the resistance trend line and surge. The market is waiting for the US ISM manufacturing PMI coming out at 10:00 AM EST.