Since March, EUR/USD has been in messy price action with a slight bullish tilt. After 6 months, we can what price action has formed - a rising consolidation channel. I say consolidation because the trend before March was bearish, and I think this i still the case heading into Q4 of 2015 and into 2016. 

EUR/USD Daily Chart 9/22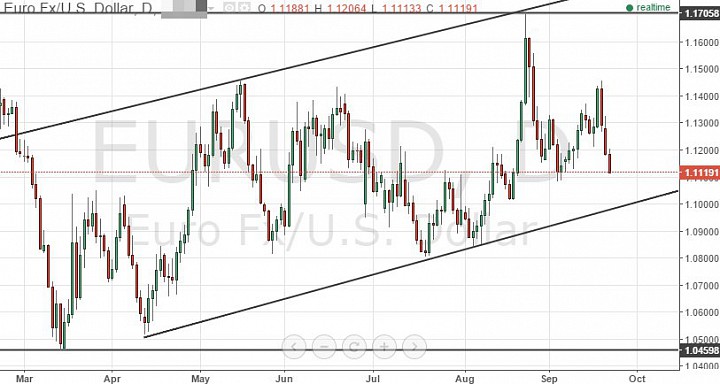 (click to enlarge)

Now, we recently heard from the Fed that they will not raise rates yet, and many pegged the rate hike to be in 2016. The thing is, this was pretty much expected by the time we got to September, and was partly when the USD has been giving up its gains in the past few months to the euro. 

Now, EUR/USD is retreating, and looks poised to test the 1.10 handle, which is where the rising consolidation support will challenge price as well. We might need some better fundamentals from the US if the USD is to be back in bullish mode (and the EUR/USD back to bearish mode). Better fundamentals will give the market more confidence that the rate hike will be earlier in the year rather than later. 

Today however, we saw a pretty bad Richmond Manufacturing Report. Here's a quick recap from Seeking Alpha: Richmond Fed Manufacturing Riding The Wave Lower.
Still, this manufacturing report is not one of those top-tier event risks and the EUR/USD should still be able to break below 1.10 despite of it. From the Eurozone we will get some manufacturing and services PMIs tomorrow (9/23), and German Ifo Business Confidence on Thursday, when we will get a durable goods and jobless claims from the US. The week wraps up with final GDP report for Q2 from the US. 

With light fundamental risk this week, let's focus on the technical development and whether EUR/USD will break that consolidation support and the 1.10 handle to signal a bearish continuation scenario going into Q4.