The USD/JPY has been retreating sharply in August, dipping to 115.90 this week before consolidating as we can see in the 1H chart. This dip coincided with a sharp sell-off in the US equities markets.

USD/JPY 1H Chart 8/27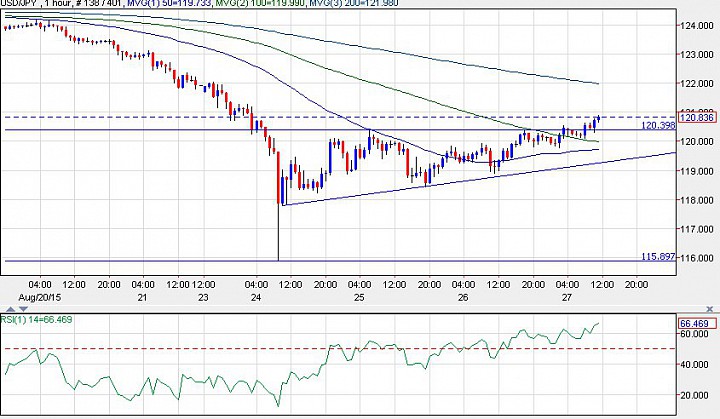 (click to enlarge)

The 1H chart shows that the pair was consolidating below 120.40 for the first half of the week. However, we are seeing a slow bullish breakout during the 8/27 US session. This push at least puts the 122.00 handle in sight. Another failure to dip below 120.00 would increase my confidence in the bullish outlook.
In the medium-term, I rather look at the support around 116 for a push to 120. I think the recent price action has neutralized a prevailing bullish outlook. However, I am not bearish on USD/JPY - more like neutral-slightly bullish. 
USD/JPY Daily Chart 8/27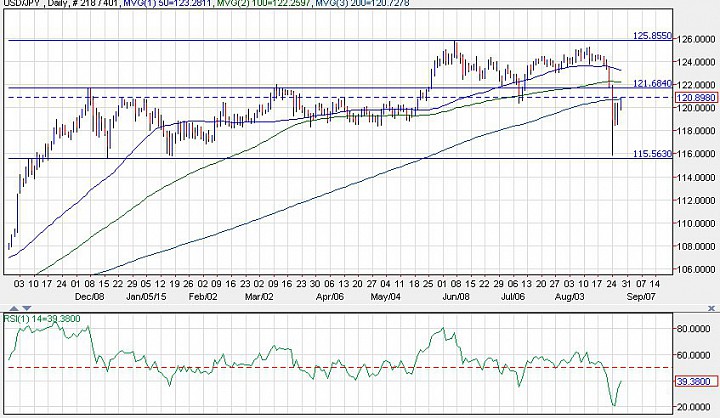 (click to enlarge)

The daily chart shows the market coming back to 2015-lows around 115.56-116 after making a high on the year around 125.85. The 120-121 area might represent the central pivot of this 2015 consolidation range. 

Now, in the short-term, I feel like if price finds resistance around 121-122 area, I would look for price action to fall back towards the 115.56-116 lows again.