Leading local exchange carrier in the U.S., Windstream Holdings Inc. WIN, is slated to report first-quarter 2017 financial numbers before the opening bell on May 4.
Over the past three months, shares of Windstream lost 29.3% compared with the Zacks-categorized Wireless National industry's decline of 2.4%.
Last quarter, the company delivered a negative earnings surprise of 8.51%. However, the company's earnings surpassed the Zacks Consensus Estimate in two of the previous four quarters, with an average beat of 12.21%.
Let's see how things are shaping up for this announcement.
Factors Likely to Influence this Quarter
We appreciate Windstream's efforts to reward its stockholders with a quarterly dividend. On Apr 17, 2017, Windstream paid out15 cents per share to its stockholders of record as of Mar 31, 2017.
We appreciate Windstream's focus on improving sales, cutting cost and planning pricing initiatives, which are expected to lead to profits and check churn. Windstream's cloud-to-cloud disaster recovery management solutions replicate mission-critical virtual servers and data. Launch of Kinetic TV services in 13 North Carolina communities was aimed at boosting broadband revenues and customer ARPU (average revenue per user). The company is striving to reverse the broadband subscriber decline trend experienced last quarter.
Also, expansion of its metro fiber network business in the Atlanta, Minneapolis, Philadelphia, St. Louis, Cleveland, Dallas, Chicago, Little Rock and Detroit areas bodes well. Meanwhile, the merger with EarthLink Holdings Corp is sure to boost Windstream's SD-WAN (software-defined wide area network) suite. The deal has expanded Windstream's footprint, taking its total to 145,000 route miles, both in Southeast and Northeast U.S.
On the flip side, Windstream has been losing access lines due to pricing pressure and fierce competition. The company is also under pressure with losses in the wholesale business. Being a local exchange carrier, Windstream remains exposed to stringent regulatory measures by the Federal Communications Commission as well as state regulations.
Further, continued investments in technology and network upgrades may dent the company's earnings. Outdated network equipment was the main reason for service discontinuation of the DSL (digital subscriber line) service in CLEC (competitive local exchange carrier) territories across 25 states.
Despite management's efforts to modify its financial profile, we remain concerned about Windstream's highly leveraged balance sheet.
Earnings Whispers
Our proven model does not conclusively show that Windstreamis likely to beat the Zacks Consensus Estimate this quarter. This is because a stock needs to have both a positive Earnings ESP and a Zacks Rank #1 (Strong Buy), 2 (Buy) or 3 (Hold) for this to happen. Unfortunately, that is not the case here as elaborated below.
Zacks ESP: Windstream has an Earnings ESP of 0.00%. This is because both the Most Accurate estimate and the Zacks Consensus Estimate stand at a loss of 34 cents. You can uncover the best stocks to buy or sell before they're reported with the https://www.zacks.com/premium/esp-buy?adid=zp_article_espfil...">Earnings ESP Filter.
Zacks Rank: Windstream has a Zacks Rank #3 which increases the predictive power of ESP. However, the company's 0.00% ESP makes surprise prediction difficult.
We caution against stocks with a Zacks Rank #4 or 5 (Sell rated) going into the earnings announcement, especially when the company is seeing negative estimate revisions.
Windstream Holdings, Inc. Price and EPS Surprise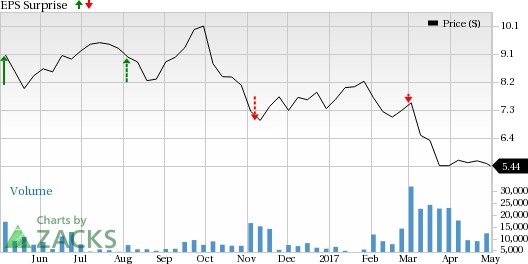 Windstream Holdings, Inc. Price and EPS Surprise | Windstream Holdings, Inc. Quote
Stocks to Consider
Here are some companies from the Zacks-categorized broader Computer and Technology sector — which houses Windstream— that have the right combination of elements to post an earnings beat this quarter.
Sprint Corp. S has an Earnings ESP of +25.00% and a Zacks Rank #3. The company will release fourth-quarter 2016 results on May 3. You can see https://www.zacks.com/stocks/buy-list/?ADID=zp_1link&ICI... _1link">the complete list of today's Zacks #1 Rank stocks here.
Apptio Inc. APTI has an Earnings ESP of +8.33% and a Zacks Rank #3. The company will release first-quarter 2017 earnings on May 4.
Apple Inc. AAPL has an Earnings ESP of +1.00% and a Zacks Rank #3. The company is expected to release second-quarter fiscal 2017 results on May 2.                                                                   
5 Trades Could Profit "Big-League" from Trump Policies
If the stocks above spark your interest, wait until you look into companies primed to make substantial gains from Washington's changing course.
Today Zacks reveals 5 tickers that could benefit from new trends like streamlined drug approvals, tariffs, lower taxes, higher interest rates, and spending surges in defense and infrastructure. See these buy recommendations now >>
Want the latest recommendations from Zacks Investment Research? Today, you can download 7 Best Stocks for the Next 30 Days.
Click to get this free report
Apptio Inc. (APTI): Free Stock Analysis Report
Sprint Corporation (S): Free Stock Analysis Report
Apple Inc. (AAPL): Free Stock Analysis Report
Windstream Holdings, Inc. (WIN): Free Stock Analysis Report
To read this article on Zacks.com click here.
Zacks Investment Research