Two thousand people cheered as Joshua Sason walked up to a boxing ring at an arena in Providence late last year. He trailed the actor Miles Teller, and the crowd was made up of extras—they were shooting a boxing movie, directed by the guy who made Boiler Room. Sason got to make a cameo in the fighter's entourage because he's producing the movie with Martin Scorsese and put up the budget. He's 27 years old.
After the December shoot, Sason took a Christmas vacation in Malaysia with his lingerie-model girlfriend, Rachel Marie Thomas. He checked on the renovation of his Tribeca penthouse. And he hit a recording studio in London to help mix an album by an Israeli actress and singer he's signed for his company, Magna, which he describes as a global investment firm.
Six years ago, Sason was living in his parents' house on Long Island, doing clerical work for a debt-collection law firm and dreaming of becoming a pop star. Then a family friend showed him a trick that seems to have earned him millions in the stock market. He won't say exactly what he does or how much he's made, but regulatory filings by dozens of companies show that Magna has invested more than $200 million since 2012.
Sason, who has full sleeves of tattoos he covers with tailored three-piece suits, calls himself a self-taught value investor. He has about 30 employees in trading, venture capital, music, and film. "I'm not going to give away the details of how we do what we do," he says in a January interview at his 16th-floor office in Manhattan's financial district. "We create businesses, and we invest."
Actually, it's a little more complicated than that. What Sason discovered is a way to get shares in desperate and broke companies at big discounts by lending them money. Magna has done deals with at least 80 companies. Of those, the stocks of 71 have gone down since the investment. He can still turn a profit, because the terms of the deals allow him to turn debt into equity at a fixed discount. No matter where the stock is trading, he gets it for less.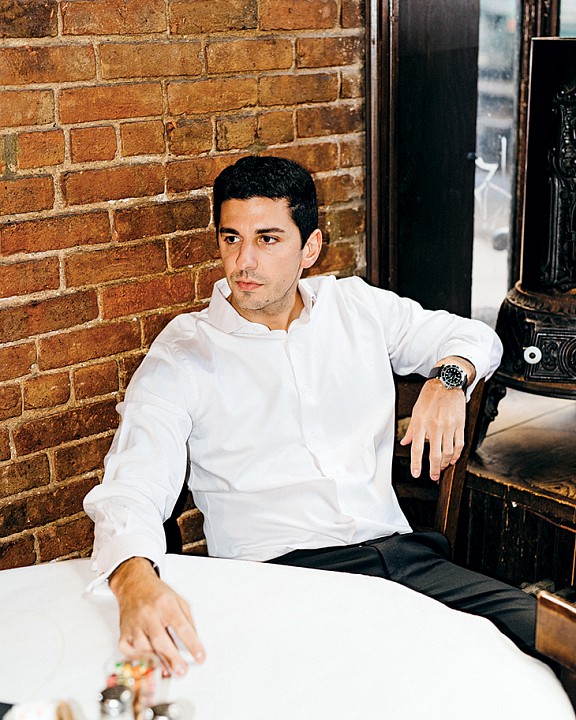 Magna functions as a pawnshop for penny stocks—shares of obscure ventures that change hands far from the rules of the New York Stock Exchange. His customers have included a would-be Chilean copper miner, an inventor of thought-controlled phones, and at least two executives later busted for fraud. They come to Sason to trade a lot of their stock for a little bit of money. Often they're aware the deal is likely to be bad for their shareholders.
If the share price goes lower before Magna can unload its investment, the companies have to give up even more stock, all but eliminating the risk for Sason. Critics call it "death-spiral financing" because it drives stocks into the ground. Others in the field say they sometimes make double, triple, or even 10 times their investment in just a few months.
The business is legal, but the loopholes in securities law it exploits are too sketchy for most of the Ivy League types at banks and hedge funds. At least six other lenders of last resort to penny-stock companies have been sued by the Securities and Exchange Commission for breaking the rules around dumping shares or other violations. One was arrested by the FBI. It's worked out better for Sason, who hasn't had any issues with the authorities. He's using death-spiral profits to diversify Magna and turn himself into an entertainment mogul.
The son of an Israeli immigrant who works as a contractor, Sason grew up in Plainview, a middle-class Long Island suburb about an hour east of Manhattan, in a beige ranch-style house near the Seaford-Oyster Bay Expressway. When he was 10 or 11 he started a rock band called The Descent with some neighborhood kids. They did Blink-182 covers, and he sang and played drums, guitar, and keyboards.
Sason built a recording studio in his parents' basement and started writing music for the band. The Descent got pretty good. Around sophomore year, someone got their music in front of Trevor Pryce, a 260-pound defensive end for the Denver Broncos who invested in music as a sideline. He flew to Long Island to sign them to his record label—but first he had to sit down with their concerned parents. "I was in the living room with five Jewish families surrounding me asking me about calculus," he says. "It was hilarious." Pryce gave Sason and his bandmates $5,000 each, and they started to dress the part of rock stars at school, according to Chris Antonelli, a band member. "We called it Rock Star Fridays," Antonelli says. "I'd wear my grandmother's mink coat and sunglasses, and Josh would wear a boa."
The Descent played showcases for executives from major labels, but the other kids Sason and Antonelli recruited weren't very good. "They botched it beyond belief," Pryce says.
"It was a big letdown," Antonelli says. "There was a lot of anticipation that we were going to be the Next Big Thing, and it didn't happen."
Sason enrolled at nearby Hofstra University and lived at home. A second band, Vibes, was less successful, playing its biggest shows at Temple Beth Am in Merrick, N.Y. Bandmate Michael Morgan says Sason was eager for another shot at the big time. "When you're signed to a record label and you're in high school, your perception of success has to change," Morgan says. "You're like, 'OK, that's possible. What else? What's next?' "
Sason got a job making deliveries in his black Mustang for an Asian restaurant, then did filing for the debt-collection firm. Morgan says they worked out together every day at a Jewish community center—where kids now play basketball in the Joshua A. Sason Gymnasium, renamed in 2013 after a donation.
In an entrepreneurship class at Hofstra, where he was a member of the class of 2009, Sason came up with a plan to import sand from Israel and sell it as a collectible called "Sand from the Holy Land." He liked the 2006 Oprah-endorsed documentary The Secret, based on a self-help book about the power of positive thinking. Another friend says Sason still talks about his belief in the book's "law of attraction"—how you can achieve anything you want by imagining that it will come true.
The way Sason tells his story, that's pretty much what happened to him. He says he was on vacation with his family in Puerto Rico when he read The Intelligent Investor, the 1949 book by Benjamin Graham that Warren Buffett cites as an inspiration. "It was pretty much a life-changing moment for me," Sason says. "I read it once. The second time I read it, I went through and...
More