Yesterday we summarized the most recent economic, political and social situation in Ukraine as follows:
"A year or so on from the last coup in Ukraine, Ukraine's former Prime Minister Sergey Arbuzov told TASS, with growing popular discontent, "another state coup can't be ruled out in Ukraine." As the cease-fire deal hangs torn and tattered in the Debaltseve winds, the nation is a mess: a new gas dispute looms as Gazprom demands upfront payments; capital controls have been tightened as the $17.5bn IMF loan may not be enough; and the central bank governor faces prosecution as the economy craters. All of these factors have driven massive outflows from Ukraine and the Hryvnia has crashed to over 33 to the USD - a record high (and 70% devaluation from the last coup)."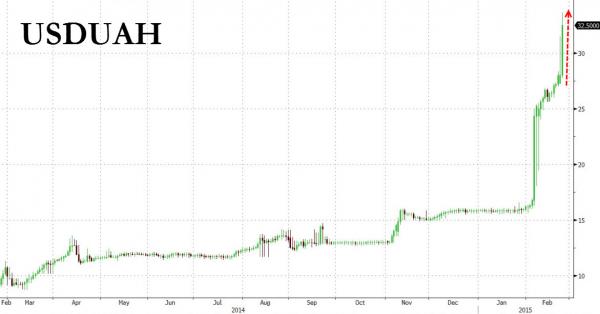 So as the Ukraine government watches its country go down in flames, with the blessings of the US State Department of course, it decided to take action. According to Reuters, with the hryvnia in free fall (see above) the central bank tried to call a halt on Wednesday by banning banks from buying foreign currency on behalf of their clients for the rest of this week.
Although banks could still trade with each other, by mid-morning there were no registered trades at any rate, leaving the currency in limbo. The previous day, the central bank rate based on reported trades had fallen 11 percent against the dollar.
Exchange kiosks on the streets in Kiev were selling limited amounts of dollars for 39 hryvnias, around 20 percent worse than the rates advertised in the windows of commercial banks where dollars were not available. This compares to the official rate of 33 USDUAH posted yesterday, a rate which will continue in freefall, now that the central bank has no more gold left to sell (it's mysteriously gone), and virtually no foreign reserves.
And the punchline: "A construction worker exchanging dollars at a kiosk in a grocery shop in return for a bag filled with thousands of hryvnia, laughed and told shoppers: "Soon we will have to walk around with suitcases for cash, like in the 1990s.""
Which is ironic, because the central banks of "developed world" nations, most of which are now facing over 300% debt to consolidated GDP, would define Ukraine's imminent hyperinflation with just one word: "success."