Oil price has been declining in March. WTI Crude for example fell from highs around 55.00 to just above 47.00 before stalling. 

WTI Crude Oil Daily Chart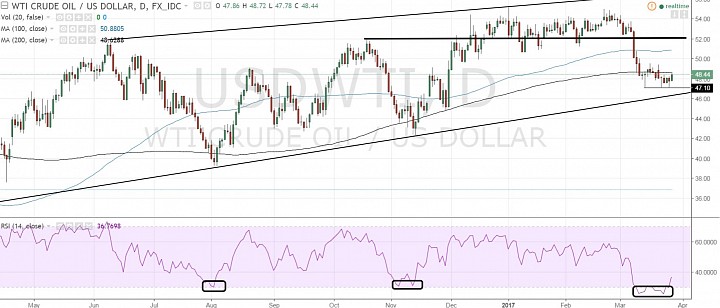 (click to enlarge)

Cyclical Low and Rising Support:
- The trend of WTI Crude for the past year can be described as bullish-neutral.
- This means, the market was choppy like a sideways market, but did push higher. 
- It looks like in this cyclical up and down market, USDWTI is now at a cyclical low, which is when price has made a downswing and the RSI has turned up from around 30. 
- Furthermore, price has been consolidating above 47.00 in the past couple of weeks.
- Holding above 47.00 keeps price above a rising trendline/support.
- So far, the downswing in March is within the context of a choppy bullish market.

Upside and Other Scenarios:
- If price continues in the same mode as it has been in the past year, we might see it retest the 55.00 area, with upside towards 60.00.
- However, if we see price held under 52.00, the choppiness might be taking over, and more bearish swings might follow. 
- In this scenario, we should anticipate downside towards 43-44, around the lows from September through November of 2016. 
- We should probably limit any bearish outlook to 40, and any bullish outlook to 60. Again, we will get more clues as we watch how the market reacts around 47 (bullish so far), and around 52.