Michael Novogratz reminded investors in July that the hedge fund industry is Darwinian. Three months on, he's living the hard lesson of natural selection.
Fortress Investment Group LLC plans to tell clients in the coming days that it is liquidating Novogratz's macro business following almost two years of losses that spurred an investor exodus. Novogratz, whose unit oversaw $2.3 billion as of June, is expected to leave Fortress by the end of the year, said a person familiar with the firm, who asked not to be identified because the information is private.
Gordon Runte, a spokesman for Fortress in New York, said he couldn't comment. Novogratz, who owns about 13 percent of the firm, didn't return a message seeking comment.
After posting losses and trailing peers in 2014, the fund was undone by wrong-way trades this year that sent investors fleeing. The Swiss franc's surge against the euro contributed to a decline of about 7 percent in January. Losses swelled to more than 17 percent by the end of last month, as Brazilian bets hurt performance in the quarter.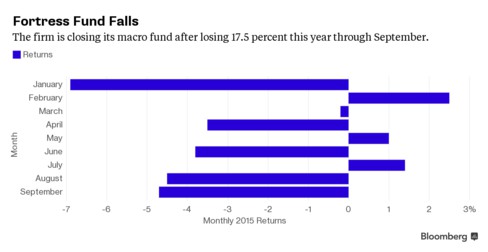 The fund is the highest-profile casualty this year of market gyrations that caused billions of dollars in losses for some of the world's largest hedge funds. Last week, Bain Capital's $2.2 billion Absolute Return Capital fund and John Brynjolfsson's investment firm Armored Wolf told clients they were closing.
Operating out of Fortress's Manhattan headquarters with million-dollar views of Central Park, Novogratz, 50, made a name for himself -- and a lot of money -- in his 13 years at the firm. When the private equity and hedge fund firm went public in early 2007, he and his partners became instant billionaires. By the end of that year, his fund was managing a record $8.1 billion. His current fund and its predecessor returned an annualized 9 percent from inception through 2013, a year when the business he ran accounted for about a quarter of Fortress's earnings.
Conference Circuit
A former U.S. Army helicopter pilot and 11-year veteran of Goldman Sachs Group Inc., Novogratz was a regular on the hedge fund...
More