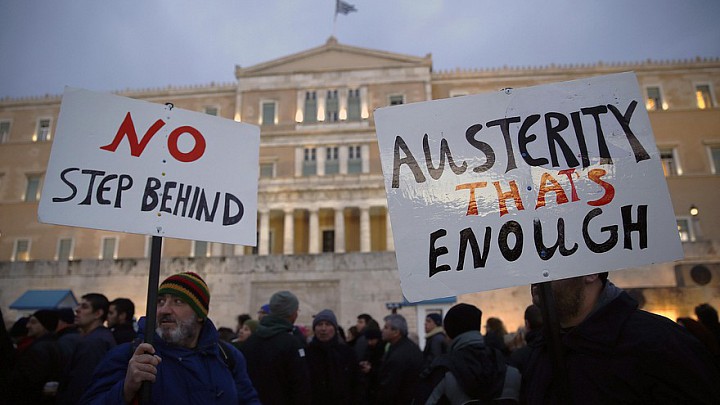 Reuters
Greece's anti-austerity government has wide backing at home

It's crunch time for Greece and its future in the eurozone, but economists aren't convinced the key Eurogroup meeting on Monday will end the standoff between the new Greek government and its international lenders.
Greece has until Friday to ask for an extension to its current bailout agreement, and after the Eurogroup of eurozone finance ministers failed to seal a deal at an emergency meeting last Wednesday, it will scramble to get the Greeks and the rest of the currency union on the same page.
Without a bailout extension, Greece will on March 1 be cut lose from its 240-billion-euro ($273 billion) rescue package that has helped keep the country afloat for almost five years. However, Greek Prime Minister Alexis Tsipras has pledged he won't agree to an extension under the current strict conditions and is seeking several adjustments, including postponing reforms, restructuring government debt and raising public spending.
Tsipras and Greece's finance minister Yanis Varoufakis struck an upbeat tone over the weekend, predicting a deal will be reached in the 11th hour on Monday. But the investment community fears more meetings will be needed to end the impasse. The Eurogroup meets in the afternoon, and news on Greece isn't expected after the European markets close. 
Here's what economists and analysts are saying Monday, ahead of the meeting:
"Time and money are running out for Greece. A subtle change in tone in Athens suggests that the new Greek government has started to notice. But whether Prime Minister Tsipras has really grasped how close he has already pushed Greece to the abyss of wholesale financial crisis, recession and 'Grexit' and whether he is ready to perform the inevitable U-turn to avoid that fate remains a very open question." — economists at Berenberg
"While we suspect that this evening's meeting might prove inconclusive, we would also not be surprised at all to see sufficient progress to justify a further meeting of ministers later in the week to seal a new compromise. Progress this evening will also need to suffice for the ECB to maintain (or if necessary even enhance) the [emergency lending assistance] available to Greek banks from the increased amount of €65 billion agreed last week." — economists at Daia Capital Markets
"Already, the ever-cheery [German finance minister] Wolfgang Schauble has thrown cold water on those who think a solution will be found, saying he is very skeptical an agreement can be made, whilst France's Sapin used his foresight to predict 'huge danger' for Greece if it leaves the eurozone. It will be comments like this that are likely to dominate the day" — Connor Campbell, financial analyst at Spreadex
"The [Greek] government reassured the people that their plan will be implemented in full. This is making the market nervous, and we are already seeing equities trading lower today, and it is likely to be a choppy week, until a deal is reached. We believe that Greece will stay in the eurozone, and the Eurogroup will find a solution during the week." — Nour Al-Hammoury, chief market strategist at ADS Securities.
"The eurozone is far better positioned to withstand a 'Grexit' (as the stress test of the banks have suggested), furthermore financial markets do not appear to be overly worried as yet (looking at eurozone sovereign yields). However despite holding such a weak hand, Greece appears to be playing a remarkable game of poker at the moment. We may find out today if the Eurogroup calls its bluff." —Richard Perry, market analyst at Hantec Markets
"The news from Greece over the weekend probably suggests some willingness to agree on a proposal tonight. It's possible that we see some sort of 'verbal agreement' — but maybe not much in the way of substance and details in terms of a longer-term package." Jim Reid, Deutsche Bank
Sara Sjolin