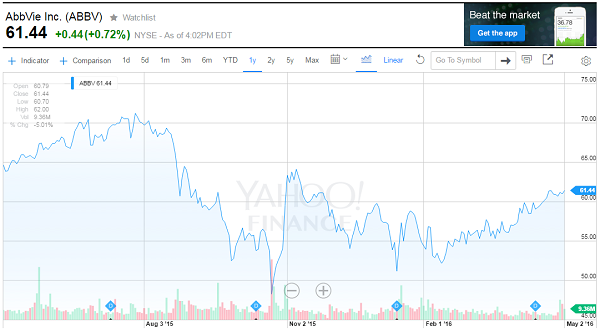 Looks like we have a recovery in process here on a top name in the pharmaceutical industry. After hitting a 12-month low of $48.27, AbbVie (ABBV) has began to make a solid climb back after stumbling again in January. Part of that comback was the FDA granted approval on the cancer drug Venclexta. The new therapy is expected to bring in as much as $1.7 billion in revenues, and is just one drug in a group of exciting new therapies. The company estimates that the new pipeline of drugs could end up driving as much as $30 billion a year in revenues. 
AbbVie has been a consistent winner for dividend growth investors as well. The company hikes it's dividend by nearly 12% each year. 
I hold AbbVie in a separate portfolio that I maintain for income. I think they are a solid company and rate them a buy.