Stocks finished mixed today as the market digested corporate earnings from the likes of Hasbro (HAS), Halliburton (HAL), and Arconic (ARNC).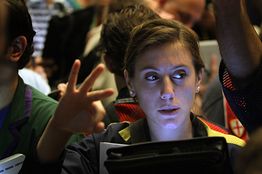 The S&P 500 dipped 0.1% to 2,469.91 today, while the Dow Jones Industrial Average fell 66.9 points, or 0.3%, to 21,513.17. The Nasdaq Composite rose 0.4% to 6,410.81, a new record high.
Bespoke Investment Group observes that companies aren't being rewarded for beating earnings forecasts:
The average company that has beaten EPS estimates has been bid up 1.49% at the open of trading on its earnings reaction day. So, investors are initially rewarding EPS beats by buying shares in after hours or pre-market trading prior to the open of the regular trading day. But then sellers are stepping in during regular trading hours as the average stock that has beaten EPS has fallen 0.84% from the open...
More