Chinese online travel company Ctrip.com International Ltd (CTRP) on Monday announced a tie-up with rival Qunar Cayman Islands Ltd (QUNR) and its backer Baidu Inc (BIDU) through a share swap, to tap the rising number of Chinese travelers heading overseas.
The deal is valued at $3.4 billion, according to Reuters calculations.
Ctrip's U.S.-listed shares were up 28 percent at record $94.66 in early trading, while Qunar was up 20 percent at near five-month high of $49.71.
Overseas spending by Chinese tourists is expected to rise 23 percent this year to $229 billion, and will nearly double to $422 billion by 2020, according to a report by consultancies China Luxury Advisors and the Fung Business Intelligence Centre.
The deal would also improve profitability at both the companies after a pricing war, involving heavy promotions and discounts to customers, has hurt the Chinese online travel sector over the past couple of years.
Ctrip's adjusted operating margin fell to 4.8 percent in 2014 from 23.6 percent a year earlier, while that of Qunar deteriorated to a negative 46 percent from negative 10 percent.
Ctrip.com will own roughly 45 percent of Qunar and Baidu will take a 25 percent stake in Ctrip.com.
Ctrip.com has a market valuation of $10.6 billion, while Qunar is valued at $5.2 billion.
Bloomberg earlier on Monday reported the plan to merge, citing unidentified people familiar with the matter.
I think this surge is overdone. QUNR is loss making company and CTRP is extremely expensive even for Chinese standards. P/E is 346 against mean sector's P/E of 75. Technical picture is also a screaming short. At least, gap should be closed. Imho, it is time to short both stocks.
<!== INSTRUMENT %% %1440% ==!>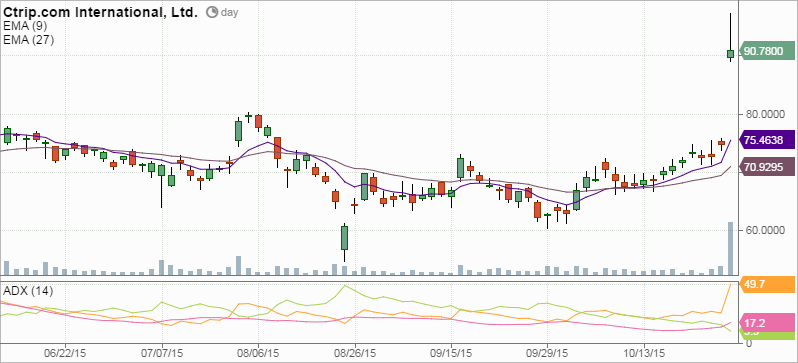 <!== INSTRUMENT %% %1440% ==!>