What: Shares of Calumet Specialty Products Partners (NASDAQ:CLMT) are down 48% as of 11:00 a.m. ET today after announcing that it had issued $400 million in secured debt and suspended its quarterly payout.
So what: You pretty much know that when a company issues a press release on a Friday after the market closes, it's never good news. In this case, Calumet's management used the end of Friday's trading to announce that the company was suspending its payout to its investors indefinitely. It also announced that it was issuing $400 million in senior notes -- with a whopping 11% interest rate -- to pay down part of its credit line and to give an injection of cash that can help it meet other debt covenants.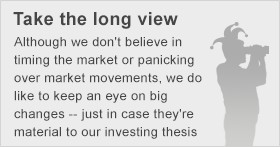 In reality, though, investors should have seen this one coming from a mile out. The company had been struggling to generate enough cash to meet its payout for some time now...
More