After a 0.2% growth in retail sales in June, demand was virtually flat in July. 
US Retail Sales m/m
July: 0.0%, Forecast: 0.2%, Previous 0.2%
US Core Retail Sales m/m
July: 0.1%, Forecast: 0.4%, Previous 0.4%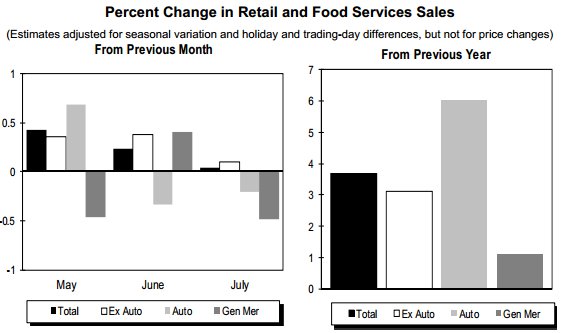 (source: census bureau)
While the economy continues to create jobs, a lack of demand growth shows that there hasn't been enough wage growth to sustain the recovery we saw in Q2. This is still just one data point, so it is not cause for major concern. However, if Q3 growth does not keep pace with Q2's, the FOMC will likely maintain the current timel-line for a rate hike, at mid-2015. 
USD/JPY Reaction:
The USD/JPY has been drifting higher since tagging the 101.50 level last week. After finding resistance at 102.50, and after the release of the disappointing US retail sales data, it fell to about 102.23. This initial reaction has not changed the bullish bias we saw this week. In the 1H chart, you can see:
1) Price is holding above the 200-, 100-, 50-hour SMAs, showing bullish bias.
2) The RSI has tagged 70 and held above 40, showing maintenance of the bullish momentum since rallying from 101.50 last week. 

Usually if USD/JPY is resilient to poor data, it means there is upside risk in the short-term, toward the 103 area. A break below 102.10 however would show that the market is still neutral or even bearish, but until that happens, let's maintain the bullish bias shown in the 1H chart.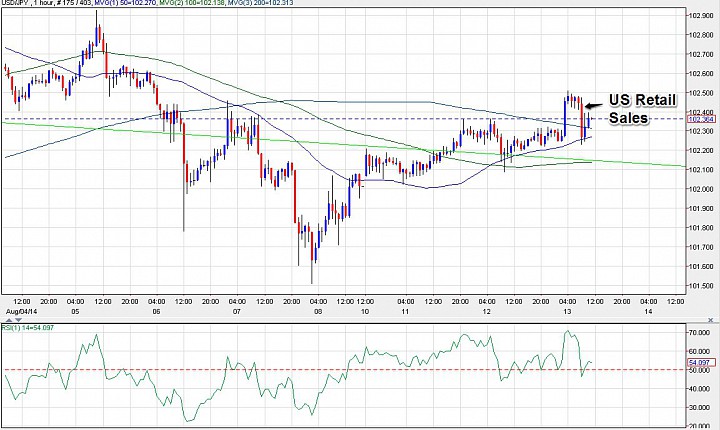 USD/JPY 1H Chart
The daily chart also shows some bullish bias:
1) Price has broken above a descending triangle resistance
2) In late July, USD/JPY crossed above the cluster of 200-, 100-, and 50-day SMAs. Despite the brief violation last week when price dipped to 101.50, the pair is now still maintaining this cluster of SMAs as support.
3) The RSI tagged 70 and has held above 40, which reflects maintenance of the bullish momentum that accompanied the bullish breakout of the triangle resistance.