On Tuesday, July 26, the Indian stock market showed negative performance as stocks on the S&P BSE Realty, S&P BSE Auto, and S&P BSE Healthcare declined.
The Nifty 50 dipped 0.52% to 8,590.65, while the BSE Sensex 30 slid 0.33% to 27,976.52.
Axis Bank (+ 2.29%), Yes Bank (+ 1.47%), and Power Grid (+ 1.45%) outperformed the broader market.
Dr Reddys Lab (-4.67%), Hindalco Ind (-2.63%), and ICICI Bank (-2.61%) topped the decliners.
Tata Steel reached a 14-month high.
Meanwhile, pharmaceutical company Lupin snapped a two-day winning streak.
Power Grid Corp. of India reached an all-time high, rising 1.45%.
On the currency market, the USD/INR dipped 0.22% to 67.266, while EUR/INR fell 0.14% to 74.0220.
Furthermore, the India VIX, a volatility index based on the Nifty 50 index option prices, contracted 0.62% to 15.6200.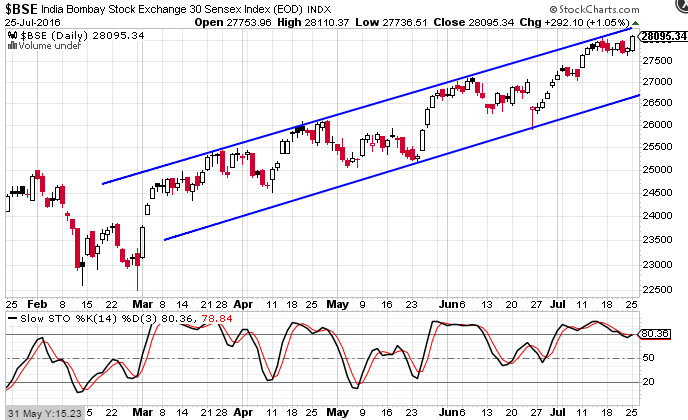 A rising band continues to shape up on the daily BSE Sensex 30 chart. At the same time, stochastic lines are approaching overbought territory, thus limiting upside potential.