EUR/AUD looks bearish and is challenging a critical support area .

EUR/AUD Weekly Chart 8/9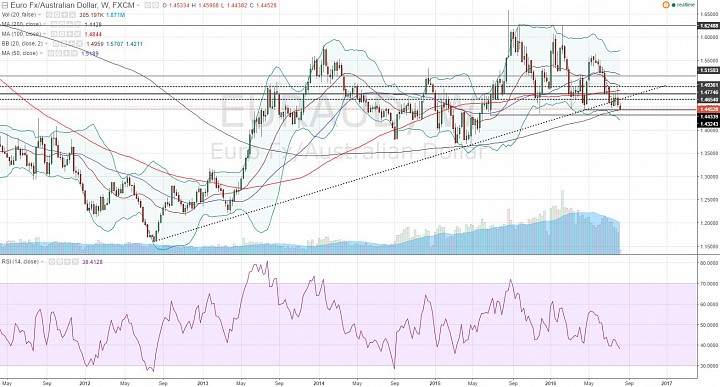 (click to enlarge)
Bearish breakout:
- In the weekly chart, we can see that EUR/AUD has broken a rising trendline that goes back to 2012. 
- Price action is strong to the downside after a failed bullish attempt turned into a strong bearish swing last week.
- The weekly RSI, which is cracking 40, suggests that the bullish momentum in 2015 is gone. 

Key support:
- Although EUR/AUD has strong bearish price action and a broken support line, there is still a lot of support factors in the 1.4325-1.4435 area. 
- This area involves several support pivots going back to mid-2015. 
- At 1.4435, price is also testing the 200-week simple moving average (SMA).

Wait for it:
- On one hand, the price action is very bearish. But on the other, price is inside a key support area. 
- For me, this is a good time to stay on the sidelines and observe. 
- If price stalls above 1.4325 and forms a bottom in the intra-session charts, I will consider buying. But right now, price action is too bearish.
- If price breaks below 1.44, I am going to consider selling on a rally to 1.4450, where price is at today. 
- The bearish targets would be 1.40 and 1.38.