Cupertino-based tech giant, Apple Inc AAPL might find itself in trouble. Chipmaker QUALCOMM Incorporated QCOM is now seeking a ban on iPhone import in the U.S, according to media reports.
Per a filing with the U.S. International Trade Commission, Qualcomm is seeking an injunction on iPhone import from China. The chipmaker has accused Apple of violating six of its patents, including one that improves battery life, as per CNBC.
Qualcomm, reportedly, has also filed a lawsuit against Apple with the U.S. District Court for Southern California seeking damages for patent violation. Qualcomm's executive vice president, Dan Rosenberg was quoted saying "Qualcomm's inventions are at the heart of every iPhone and extend well beyond modem technologies or cellular standards." He added "Apple continues to use Qualcomm's technology while refusing to pay for it."
In response, Apple has maintained that "We've always been willing to pay a fair rate for standard technology used in our products and since they've refused to negotiate reasonable terms we're asking the courts for help."
A few days back, Apple had fired a legal salvo at Qualcomm, accusing the chipmaker of having questionable business practices that helps it get more patent money and at the same time suppresses innovation.
The Apple-Qualcomm dispute started in January this year when Qualcomm was slapped with a $1 billion lawsuit related to licensing royalty payments by Apple. In the suit filed in the U.S. District Court for the Southern District of California, Apple accused Qualcomm of overcharging for chips and refusing to pay some $1 billion in promised rebates. Later on, Apple also asked its manufacturing partners – Foxconn, Pegatron, Wistron and Compal Electronics – to stop paying Qualcomm and agreed to indemnify them if Qualcomm took them to court.
Apple Inc. Price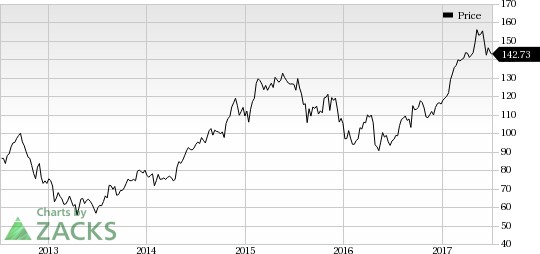 Qualcomm launched a counterattack on Apple by mentioning the value of its invented technologies, their contribution and share in the industry through its licensing program. The filing also elaborated on Apple's illegal and improper handling of agreements and negotiations with device manufacturers, misleading regulators to attack Qualcomm around the world and not utilizing the full performance of Qualcomm's modem chips in its iPhone 7.
We are unlikely to see an end to this legal dispute in the near term.
Zacks Rank & Stock Price Movement
At present, Apple carries a Zacks Rank #3 (Hold). You can see the complete list of today's Zacks #1 Rank (Strong Buy) stocks here.
In the last one year, shares of the company have registered growth of 48.8% compared with the Zacks categorized Computer Mini industry's gain of 47.8%.

Stocks to Consider
Better-ranked stocks in the broader tech space include Quantum Corporation QTM and Marvell Technology Group Ltd. MRVL, both sporting a Zacks Rank #1.
Quantum and Marvell have delivered average positive earnings surprise of 83.30%, 43.75% and 86.70%, respectively in the trailing four quarters.
Will You Make a Fortune on the Shift to Electric Cars?
Here's another stock idea to consider. Much like petroleum 150 years ago, lithium power may soon shake the world, creating millionaires and reshaping geo-politics. Soon electric vehicles (EVs) may be cheaper than gas guzzlers. Some are already reaching 265 miles on a single charge.
With battery prices plummeting and charging stations set to multiply, one company stands out as the #1 stock to buy according to Zacks research.
It's not the one you think. See This Ticker Free >>
Want the latest recommendations from Zacks Investment Research? Today, you can download 7 Best Stocks for the Next 30 Days.
Click to get this free report
Quantum Corporation (QTM): Free Stock Analysis Report
Marvell Technology Group Ltd. (MRVL): Free Stock Analysis Report
QUALCOMM Incorporated (QCOM): Free Stock Analysis Report
Apple Inc. (AAPL): Free Stock Analysis Report
To read this article on Zacks.com click here.
Zacks Investment Research