Crude Oil: Why is Oil slowing down the pace?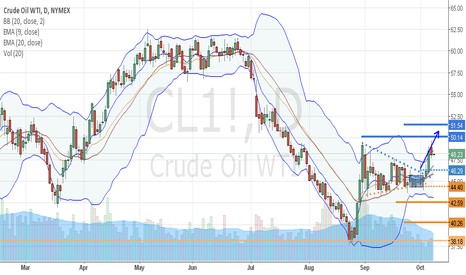 Two days ago, Oil broke out the triangle it was caught up in, which has propelled it to 49.72. Although the bollinger bands were still spreading up, Oil was traded outside of those bands, suggesting a very bullish trend , and a higher volatility. Nevertheless, Oil should re-enter its bands before it continues its rally towards 50.14. It mostly explains yesterday's bearish candle.

The breakout's objective remains 51.54, with 50.14 as a primary objective.

On a daily scale, Cutting through 47.69 will send Oil back to 46.89, with 47.33 as a primary objective. Oil will find strong support around those levels. Oil will have 48.93 as a resistance level, which breaching will trigger the pursuit of the rally.

The daily Pivot Point is around 48.51. The daily support levels are around 47.31 and 46.49. The daily resistance levels are 49.33 and 50.53.