The New Zealand Dollar has been a pretty strong performer in today's session, likely as news comes out that the New Zealand government believes the recall Fonterra's dairy products was unwarranted.
Since the Fonterra news broke, the EUR/NZD pair has pretty much been a one-sided affair. Today however, we may have put in a top and could be entering a period of reversal, which could lead to either sideways action, or a further retracement downward.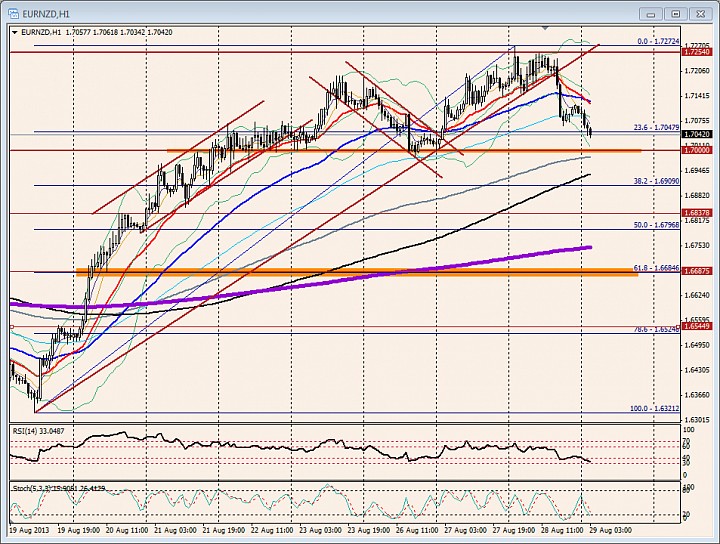 There are only some initial signs of reversal, including the break of the upward sloping trendline connecting the highs from Aug 19th and Aug 27th.
The 21 and 55 EMA's have crossed to the downside (though this has happened recently and didnt mean a start of a new short-term trend.
The RSI has come off substantially from overbought levels in this timeframe and actually show a bit of bearish impulse.
The thing to do then is to monitor what happens at the psychologically important whole number of 1.70. That level held as support 2 days ago, but if it is breached, then it does open up further declines and what could be the start of a downward swing.

The bears would have to tussle with the 200 moving average (the simple is in gray, the exponential in black).
But an interesting target would be the 61.8% retracement of the recent upswing from 1.6320 which comes in at around 1.6685.
Let's go ahead and see if this important support level holds, and if the NZD can make some noise.
- Nick