In a decades-long struggle to control her weight, Carolyn Mills joined the YMCA many times, signed up for the Jenny Craig diet program and tried fen-phen, the drug combination later found to damage heart valves. As her size yo-yoed down and back up, her health deteriorated.
An error has occurred
You have 1 free Businessweek article left.
Register for more.
Already a subscriber? Link your Bloomberg Terminal account or your Businessweek subscription account to access all articles.
She finally found the answer in a new class of medicines. Now, those drugs and changes to her diet have helped Mills cut her weight to 250 pounds (113 kilograms) from 300 pounds over the last six months. The drawback: her out-of-pocket expenses are almost $300 a month and may head higher. She says it's worth the cost.
"Obesity haunts me," said Mills, 62.
Mills highlights the difficulties big pharma faces as it seeks to profit from an epidemic that afflicts more than 600 million adults worldwide. Medicines like Novo Nordisk A/S's Saxenda, the latest one used by the Boston resident, are safer and more effective than past treatments. Yet employers and insurers are reluctant to cover the drugs, meaning the cost often falls on patients' shoulders, limiting the potential market.
Drugmakers such as Novartis AG, Novo and Sanofi are pushing ahead, testing even more advanced medicines they hope will deliver greater weight loss than the drugs available today. Once seen as a problem only in wealthier countries, obesity is on the rise in lower-income regions too, increasing the risks of diabetes, heart disease and cancer. That raises health costs and contributes to millions of deaths each year. More than a third of U.S. adults fall into that category.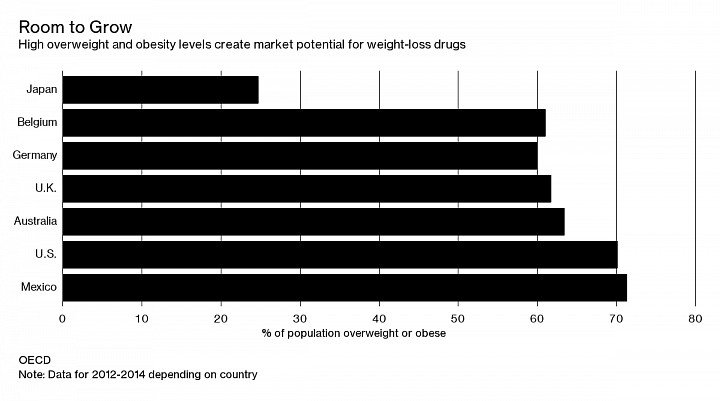 "Given the public-health crisis around the world with obesity, if we can find a medicine that has strong efficacy and reasonable tolerability there's no question there's a very large market here and it would potentially have a big impact on health care," said Vas Narasimhan, global head of drug development at Basel, Switzerland-based Novartis.
The industry faces hurdles over and above the lack of coverage. Modest weight-loss results and criticism of medicine as a way to treat obesity mean just 2 percent of excessively overweight people rely on drugs. The...
More