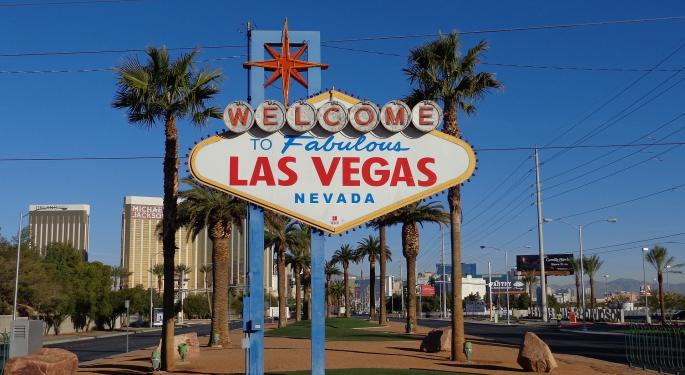 With revenue in the world's largest gaming destination — Macau, China — still depressed, casino investors are looking to the state of Nevada for some much-needed revenue growth this year.
The state's gaming control board has released its report on gaming revenue for the month of July. Here's a brief overview.
The Numbers
Nevada's non-restricted gaming licensees reported a total "gaming win" of $1.015 billion in July, a 9.9 percent year-over-year increase.
July marked a strong start to the fiscal year for Nevada after last year's total gaming win came in 1.1 percent higher than the previous fiscal year's total.
Related Link: Macau Beats Expectations In July, But Still Logs 26th Consecutive Revenue Decline
Las Vegas Strip
More than $613 million (about 60 percent) of Nevada's total gaming win in July came from the Las Vegas Strip.
Win numbers for the Vegas Strip were up 16.7 percent year-over-year in July following June's 9.7 percent gain. The Strip finished last fiscal year about 0.6 percent below the previous year's revenue total.
Downtown Vegas
Historic Downtown Las Vegas, which has performed extremely well in recent months, followed a solid June with a 2.5 percent year-over-year revenue gain in July. Downtown Vegas finished last fiscal year up 6.6 percent, the best growth of any region in the state.
Shares of Boyd Gaming Corporation BYD 0.87%, which operates three downtown casinos, are up 17.4 percent in the past year.
© 2016 Benzinga.com. Benzinga does not provide investment advice. All rights reserved.