IBM (IBM) is one of the eight "Dogs of the Dow" for 2016. It has rewarded investors with a gain of 12.1% year to date.
The stock is in bull market territory, 32% above its Feb. 12 low of $116.90. However, the stock is also below its 200-week simple moving average of $171.26, which is the "reversion to the mean." The stock is also in bear market territory 28.5% below its all-time intraday high of $215.04, set during the week of March 15, 2013.
IBM is one of the few tech stocks that is above its July 1999 bubble peak of $139.18. And it is one of the 30 components of the Dow Jones Industrial Average (INDU) . IBM is outperforming the Dow 30 year-to-date gain of 4.1%.
The daily chart for IBM shows the bear market decline of 45.6% from the March 2013 high to the Feb. 12 low. The rally from that low has the stock trading around its 38.2% Fibonacci retracement of $154.72.
The weekly chart for IBM is negative and overbought, making the upcoming earnings report a difficult hurdle for the stock.
Analysts expect IBM to earn $3.21 a share when it reports earnings after the closing bell on Oct. 17. For IBM, the development of applications on Watson and overall cloud computing are crucial. On this front, IBM employees with cancer can access insight and potential treatment options on the Watson platform.
Here's the daily chart for IBM.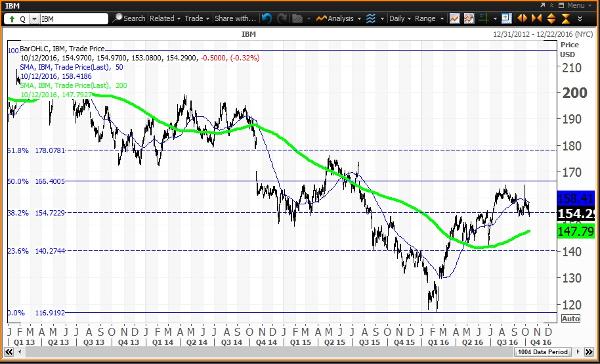 Courtesy of MetaStock Xenith
IBM closed...
More