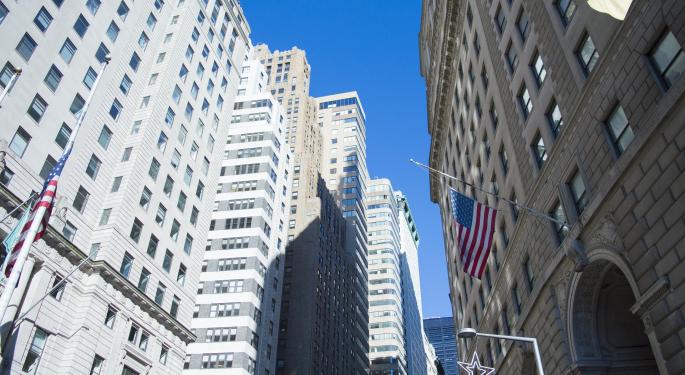 Below is a tool used by the Benzinga News Desk each trading day -- it's a look at everything happening in the market, in five minutes. Apply for daily AM access by clicking here or email minutes@benzinga.com.
Macro Focus
Major U.S. equity averages closed on either side of the unchanged mark on Monday as the Dow and S&P recorded small losses and the Nasdaq finished the session with a modest gain. Losses on the day were concentrated in the energy sector, which lost more than 1 percent.
Futures for the Dow Jones Industrial Average gained 47 points to 18,566.00, while the Standard & Poor's 500 index futures rose 5.25 points to 2,186.75. Futures for the Nasdaq 100 index climbed 13.25 points to 4,825.00.
NYMEX crude oil futures on Monday fell around 3 percent to $47.05 while Brent contracts lost 3.36 percent to finish at $49.17. Natural gas futures jumped 3.68 percent to $2.68.
On Tuesday morning, Oil prices traded lower as Brent crude futures declined 0.78 percent to trade at $49.34 per barrel, while US WTI crude futures also fell 0.85 percent to trade at $48.74 a barrel.
Data on new home sales for July will be released at 10:00 a.m. ET.
The Richmond Fed's manufacturing index for August is schedule for release at 10:00 a.m. ET.
The Treasury is set to auction 4-week bills at 11:30 a.m. ET.
The Treasury will also auction 2-year notes at 1:00 p.m. ET.
For Americans in the bottom quarter of the income scale, pay is rising at the fastest rate since the recession, and large firms are setting a public example, putting pressure on competitors to follow suit.
BZ News Desk Focus
Best Buy BBY Q2 EPS $0.57 vs $0.43 est, Revenue $8.53B vs $8.40 est
J.M. Smucker SJM Reports Adj. EPS $1.86 vs. Est. $1.74, Rev. $1.815B vs. Est. $1.89B
Zoes Kitchen ZOES Reports Q2 Adj. EPS $0.06 vs. Est. $0.06, Rev. $66.3M vs. Est. $67.2M
NQ Mobile NQ Report Q2 EPS $0.077 vs. Prior Year Quarter $0.075, Rev. $83.69M vs. Prior Year Quarter $102.07M
Toll Brothers TOL Reports Q3 EPS $0.61 vs $0.61 Est; Revenue $1.269B vs $1.25B Est
Sell-Side Themes
Sell-Side's Most Noteworthy Calls
Jefferies downgraded ResMed RMD to Underperform.
BMO downgraded Pan American Silver PAAS to Market Perform.
Jefferies upgraded BHP Billiton BHP to Buy.
BMO upgraded Silver Standard SSRI Outperform.
Imperial started United Continental UAL at Outperform.
Deal Talk
Negotiations between Bayer BAYRY and Monsanto MON are advancing toward a deal after the companies made progress on issues including the purchase price and termination fee, people familiar with the matter told Bloomberg.
Microsoft MSFT has signed an agreement to acquire artificial-intelligence-powered scheduling service, Genee. Financial terms were not disclosed.
David Rubenstein and his firm the Carlyle Group is one of the final bidders in an auction to buy McDonald's MCD restaurants in China for a price likely to be more than $2 billion, two sources told New York Post. McDonald's in March said it wanted to reduce the number of stores it owns in Asia. The Golden Arches said it had more than 2,800 restaurants in China, Hong Kong and Korea and owned most of them.
In The News
Donald Trump intensified his calls for an investigation into his Democratic rival's emails, saying that a special prosecutor must take over the case. Trump said, "After the FBI and Department of Justice whitewashed Hillary Clinton's email crimes, they certainly cannot be trusted to quickly or impartially investigate Hillary Clinton's new crimes."
Stanford University officials say hard liquor is now prohibited in undergraduate on-campus parties. The change comes after former Stanford swimmer Brock Turner was convicted of sexually assaulting a woman, after both drank at a campus party. The case caused a national furor when a judge sentenced Turner to just six months in jail.
Blogosphere
The Europeans were a few years late to QE, but they're now making up for it with a vengeance: Economic stimulus or corporate welfare?
Trending
MON SGY NQ SGYP BBY MBLY ZOES TOL SJM ODP SYT MRO DLR SKX
#ICantBeUrFriendBecause "You've allowed your smartphone to LITERALLY turn you into a lemming." "it's GIF. JIF IS A peanut butter and jraphics are not a thing."
© 2016 Benzinga.com. Benzinga does not provide investment advice. All rights reserved.
Source