A beat on the top and bottom lines in fourth-quarter earnings by General Motors Company (NYSE:GM) still sent GM stock falling 3.3% last week, suggesting investors are still pessimistic about the company's ability deliver on its 2017 promises. GM stock declined as much as 5.3% immediately on the quarterly results, netting the automaker's largest one-day decline in almost a year.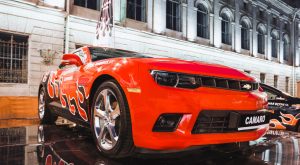 But now's the time to bet on GM stock, which is still trading below its December 2013 high of $41.
I've always believed the pessimism shown towards GM and Ford Motor Company (NYSE:F), which both trade at dirt-cheap valuations, were too irrational. In the case of GM stock, the shares closed Friday at $35.17, down more than 7% over the past month. The shares are now priced at forward price-to-earnings ratio of just 5.7 based on fiscal 2017 estimates of $6.08 per share.
The discount on the Detroit-based carmaker is even more glaring on the heels of its revenue and earnings beat. General Motors guided for full-year 2017 earnings of $6 to 6.50 per share. Add in the company's 38-cent-per-share...
More