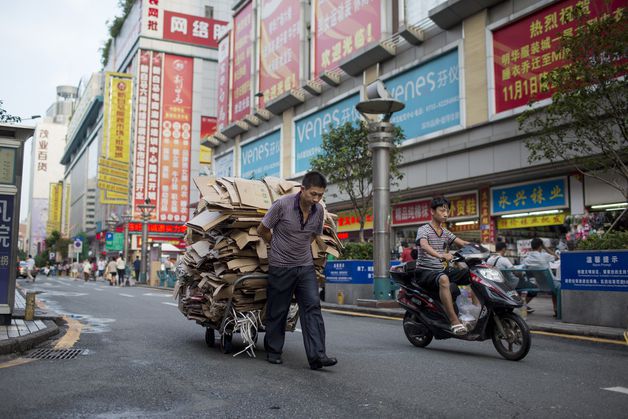 Photographer: Brent Lewin/Bloomberg
China's broadest measure of new credit trailed analyst estimates in August, adding to the government's challenge to meet its economic-growth target amid a slumping property market and a pullback in manufacturing.
Aggregate financing was 957.4 billion yuan ($156 billion), the People's Bank of China said today in Beijing, compared with the 1.135 trillion yuan median estimate of economists surveyed by Bloomberg. New local-currency loans were 702.5 billion yuan, and M2 (CNMS2YOY)money supply grew 12.8 percent from a year earlier.
Today's report adds to evidence the economy is losing steam after July aggregate financing slumped and recent data showed moderation in manufacturing and a drop in imports. Premier Li Keqiang this month said some volatility in growth is inevitable and the government will stick with targeted policies.
"Banks are reluctant to lend because there aren't enough good projects," said Dong Tao, chief regional economist for Asia excluding Japan at Credit Suisse Group AG in Hong Kong. "That's a real headache. Besides political pressure to lend, you have to give the banks a sweeter deal. In the next couple of months, a cut in the reserve-requirement ratio or the loan-deposit ratio is quite likely."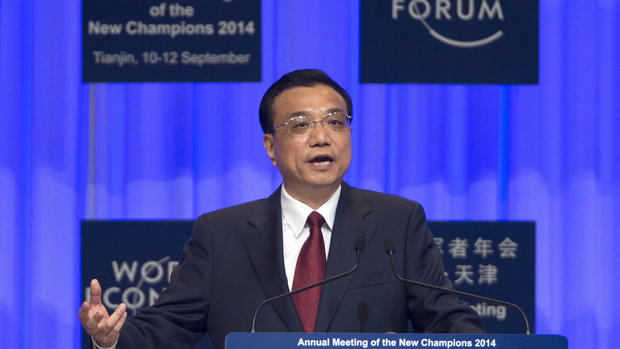 New yuan loans, which measures new lending minus loans repaid, compared with economists' median estimate of 700 billion yuan and figures of 385.2 billion yuan in July and 712.8 billion yuan a year earlier. The slowdown in M2 growth from 13.5 percent in July was flagged by Premier Li on Sept. 9. The figure compared with the median estimate of 13.5 percent in a survey of analysts conducted before his disclosure.
More Stimulus?
The Shanghai Composite Index (SHCOMP) climbed 0.9 percent at the close on speculation the government will further ease policies to support growth.
"As the demand for credits in the private sector is still soft, we think that Chinese authorities will maintain proactive fiscal policy and are also likely to roll out another round of pro-growth policies," Liu Li-Gang, chief Greater China economist at Australia & New Zealand Banking Group Ltd. in Hong Kong, wrote in a note.
Historically, lending wanes through the year as companies' need for capital slows and banks brush up against lending quotas. Since 1995, combined new yuan loans for the first quarter averaged 1.275 trillion yuan, then dropped to 1.101 trillion yuan in the second quarter, 789 billion yuan in the third and 715 billion yuan in the final three months of the year.
Money Pool
August's aggregate financing, a measure of credit that includes bank lending, corporate bond issuance and shadow-banking products like entrusted loans, was the lowest for that month since 2009 and compared with 1.584 trillion yuan a year earlier. Economists' estimates ranged from 900 billion yuan to 1.5 trillion yuan.
"There's already a lot of money in the pool, and we can't rely on monetary stimulus to spur economic growth," Premier Li said, according to a Xinhua News Agency transcript of comments he made to business executives attending the World Economic Forum in the northern Chinese city of Tianjin. Li said M2 growth is within a controllable range and that China will continue to implement a "prudent" monetary policy.
August's credit data showed a return to "a more stable path," JPMorgan Chase & Co. economists wrote in a note. They maintained a forecast that the PBOC will keep the policy rate and reserve-requirement ratio unchanged for the rest of the year and said "credit growth will stay stable."
On Target
The nation is capable of meeting its economic expansion target for the year, Li said this week. He reiterated that an increase in gross domestic product slightly above or below the goal of about 7.5 percent is acceptable as long as employment, incomes and environmental protection improve.
Imports (CNFRIMPY) unexpectedly dropped 2.4 percent from a year earlier in August, highlighting subdued domestic demand, while manufacturing expansion slowed, according to two surveys of purchasing managers released respectively by the government and HSBC Holdings Plc.
Industrial-production and retail-sales data for August and fixed-asset investment figures for January through August are scheduled for release tomorrow.
Source