GBP/JPY has been falling sharply after a consolidation from late March to early April.

GBP/JPY 4H Chart 4/10
(click to enlarge)

As we can see in the 4H chart, there was a consolidation and bullish correction from 176.48 up to about 179.30. Since then, we have seen some sharp bearish candles that has brought the pair down below 176. The 4H SI has tagged 30, which shows a revival of the bearish momentum. Price is back under the moving averages (200, 100, 50). The prevailing trend has been bearish in 2015. 

With the bearish outlook, a rally will be vulnerable to being faded. A bullish pullback should not push above 178 in the bearish scenario.It should probably hold below 177.50, but how much lower will the pair extend?
In the daily chart we can see that price is testing the low on the year around 175.50 made early February.

GBP/JPY Daily Chart 4/10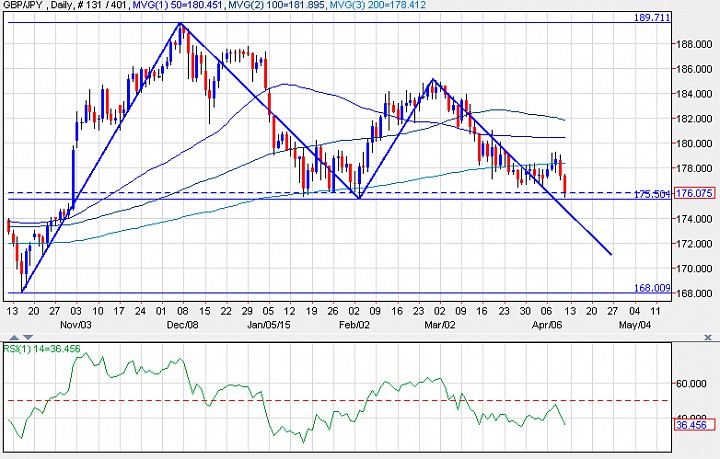 (click to enlarge)

We can see that price action has been bearish since Dec. 2014 when price made a high at 189.71. It should be noted that the long-term trend has been bullish since 2012, so the current bearish attempt should be considered a medium-term bearish correction. IF that is the assessment, a common projection for the type of bearish swings we have seen would be an ABC correction, where wave A (the first downswing), and wave C (the current downswing) should be similar. 

IF this is indeed an ABC correction, we should expect further decline towards 171. 

Now, if price does not fall below the 175.50 low, or does but climbs back sharply, we are likely in a triangle or wedge consolidation, which means volatility is likely to star falling during a period of uncertainty, until traders are clear on direction again.