The recent developments in Ukraine, a country now without a government and polarized between supporters of Russian involvement and supporters of Western ie. EU influence, has added tension in the geo-political arena as well as the financial markets
We saw global equities start the week with a dip. Let's take a look at the S&P500.
SP500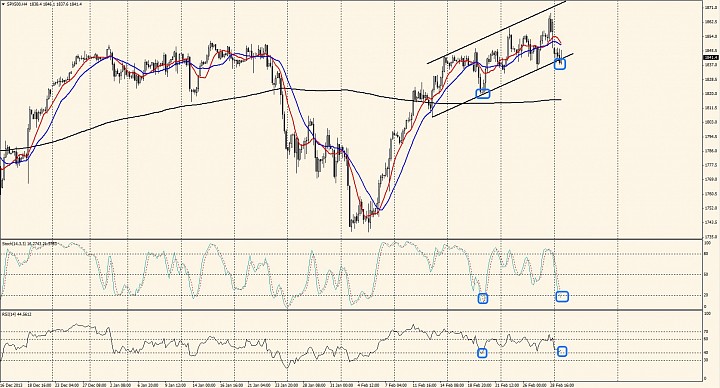 (S&P 500 4H chart)
The 4H chart shows price has been bullish, rallying in a channel. Price was kicked back to the channel support.
S20-R40

I look at the combination of stochastic at 20 and RSI at 40 as a guide for entry into an uptrend. We have a bull run since February and no signs of reversal yet. I am looking at the initial sell-off as another bearish correction, which is ripe for a reversal back into the primary trend in this time-frame.
Risk-on Through Revolutions
This is a purely technical anticipation. I have no idea what will happen to Ukraine. The stock markets weathered several revolutions in the MENA area, so I think this risk aversion should be short-term. 
However if the S&P 500 dips below 1830, and the 4H RSI dips below 40 towards 30, risk aversion would appear to have a bigger grip on risk sentiment. We should then turn to the daily chart for the S20-R40 combination: