Stock drops by most in over a year as deliveries plateau
Bernstein says figures 'raised more questions than answers'
Tesla Inc. deliveries are flatlining amid persistent production snafus, reinforcing concern that Elon Musk may again be setting targets that his electric-car company won't hit on time.
The maker of Model S sedans and Model X sport utility vehicles has reported quarter-by-quarter shipment declines for the second time in the past year. In addition to stoking fear about whether demand has peaked, these figures cast doubt on whether Musk can pull off a steep production ramp for his most ambitious offering yet, the cheaper Model 3 sedan.
Read More: We're Tracking Everything Elon Musk Has Dreamed Up
"Tesla's Q2 production and deliveries report raised more questions than answers, particularly about Model S and X demand," Toni Sacconaghi, a Sanford C. Bernstein analyst, wrote in a report Wednesday. "The Tesla investment thesis hinges on the success of Model 3, and the ability for the company to ramp production, make the car profitably and deliver good initial build quality."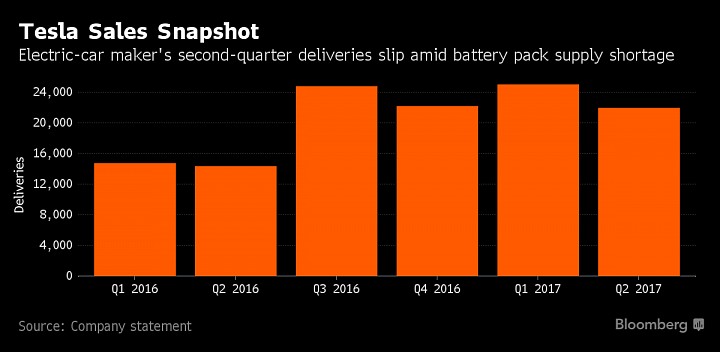 Musk has a history of setting aggressive goals and timelines for Tesla and coming up short...
More