UNG has been in a persistent bearish trend, and based on the prevailing trend, you can be skeptical of any price bottom action. Nonetheless let's take a look at the current one. 
UNG 1H Chart 11/18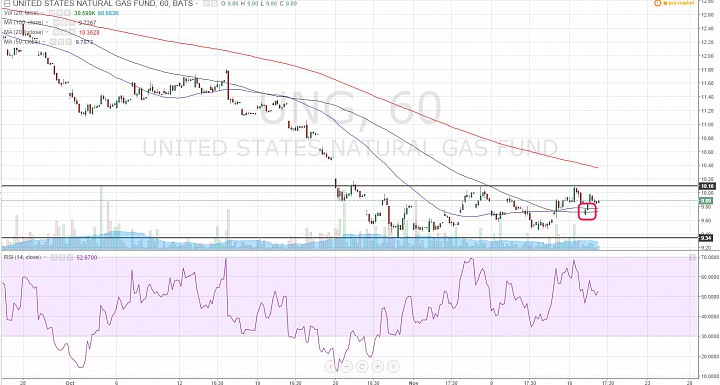 (click to enlarge)
The 1H chart shows that price has been stalling in November, between roughly a 10.10 resistance, and 9.35 support, which is the historic low. 
Signals: From a technical perspective the prevailing downtrend is very dominant, and going against it is risky. Here are a couple of signs in the 1H chart that the market is trying to put in a price bottom. 1) Price buonced off the middle of the consolidation range and above the 100-, and 50-hour simple moving averages (SMAs). 2) The RSI has tagged 70 and is holding above 40 for the most part, showing development of bullish momentum in the very short-term.
Upside? Signals of a price bottom in the 1H chart might be viable in the short-term, for a rally for example towards the previous consolidation around around 11.40, or even up to 12.50, a key support throughout the year that might turn into resistance (refer to the daily chart.).