Central Garden & Pet Company CENT looks good on the back of its robust strategies, impressive earnings history and a diversified brand portfolio. In fact, organic growth, value accretive acquisitions such as the pet bedding business and Segrest, and divestment of non-strategic assets have been aiding the company's performance. Further, this Zacks Rank #3 (Hold) stock boasts a Momentum Score of "B" with a long-term earnings growth rate of 10%.

Shares of this leading producer of garden and pet supplies products' company have outpaced both the Zacks categorized Consumer Products-Miscellaneous Discretionary industry and the broader sector in the last year. The stock has rallied 29.2% against the industry's decline of 9.7%. Meanwhile, the Zacks categorized Consumer Discretionary, of which they are part of, gained 12.7%.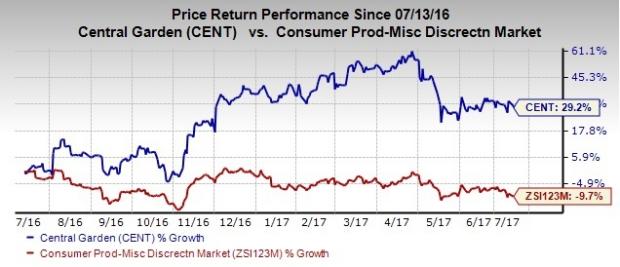 Let's Delve Deeper

Central Garden & Pet is revamping both the Pet and Garden segments. In fact, the company intends to have a balanced approach that encompasses revenue growth and cost reduction. To this end, it plans to launch several products that appeal to customers as well as upgrade customer service.
Going forward, management expects the company's ongoing transformation efforts to yield results. Also, it intends to gain traction in the home centers, mass market, grocery, specialty pet store and other independent channels.

Moreover, Central Garden & Pet's diversified portfolio of brands has helped it to develop healthy commercial relationships with giant retailers, which provides the company significant opportunity to drive growth. Meanwhile, management intends to evolve into an integrated, multi-brand company from a portfolio of stand-alone businesses, by restructuring and reorganizing operating units and consolidating facilities.

Notably, the company maintained its positive earnings streak for the last 11 quarters, with an impressive trailing four-quarter average of 119.1%. Also, the company's top line has outpaced the Zacks Consensus Estimate in seven of the eight consecutive quarters. Furthermore, the company's gross margin has shown constant improvement since the last five quarters. This progress is attributable to its efforts toward improving manufacturing efficiency, exit from the holiday decor business and lower raw material costs.

In an effort to deliver sustainable growth, the company is increasing investment. However, costs related to initiatives may hurt 2017 net income but will drive top-line growth in second-half fiscal 2017. Earlier, the company had projected fiscal 2017 earnings per share of $1.37 or higher, up approximately 8.7% or above from the prior year.

However, we believe that stiff competition and decline in consumers' discretionary spending might weigh upon the company's results. In addition, seasonality of garden business remains a potent concern. Gardening is generally limited to the period between spring to summer, which makes the garden business highly seasonal in nature. A major part of the sales occurs during the fiscal second and third quarters. Failure to perform during the season is likely to have a significant impact on the company's yearly financials.

Bottom Line
Nonetheless, we believe that afore-mentioned headwinds will be efficiently overcome by Central Garden & Pet's strategic endeavors. Estimates have remained largely stable ahead of the third-quarter fiscal 2017 earnings release. In fact, the Zacks Consensus Estimate for the third quarter and fiscal 2017 are currently pegged at 50 cents and $1.42, respectively.


Meanwhile, you can count upon some better-ranked stocks in the same industry that include The Container Store Group, Inc. TCS, Prestige Brands Holdings, Inc. PBH and SodaStream International Ltd. SODA carrying a Zacks Rank #2 (Buy). You can see the complete list of today's Zacks #1 Rank (Strong Buy) stocks here.

The Container Store Group, with a long-term earnings growth rate of 8% has delivered an average positive earnings surprise of 34.9% in the trailing four quarters.

Prestige Brands, with a long-term earnings growth rate of 9.6% has pulled off an average positive earnings surprise of 4.9% in the trailing four quarters.

SodaStream International, with a long-term earnings growth rate of 7.5% has delivered an impressive average positive earnings surprise of 121.2% in the trailing four quarters.

More Stock News: 8 Companies Verge on Apple-Like Run

Did you miss Apple's 9X stock explosion after they launched their iPhone in 2007? Now 2017 looks to be a pivotal year to get in on another emerging technology expected to rock the market. Demand could soar from almost nothing to $42 billion by 2025. Reports suggest it could save 10 million lives per decade which could in turn save $200 billion in U.S. healthcare costs.

A bonus Zacks Special Report names this breakthrough and the 8 best stocks to exploit it. Like Apple in 2007, these companies are already strong and coiling for potential mega-gains. Click to see them right now >>
Want the latest recommendations from Zacks Investment Research? Today, you can download 7 Best Stocks for the Next 30 Days.
Click to get this free report
Central Garden & Pet Company (CENT): Free Stock Analysis Report
SodaStream International Ltd. (SODA): Free Stock Analysis Report
Prestige Brand Holdings, Inc. (PBH): Free Stock Analysis Report
Container Store (The) (TCS): Free Stock Analysis Report
To read this article on Zacks.com click here.
Zacks Investment Research