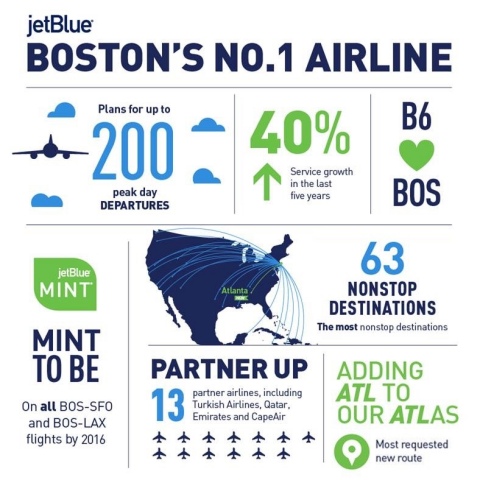 NEW YORK--(BUSINESS WIRE)--JetBlue (Nasdaq:JBLU) today announced plans to grow its Boston focus city by more than 40 percent to 200 peak day departures, including the launch of its 63rd nonstop destination, Atlanta. The new route sets in motion the airline's plan to further expand its leadership position in Boston, where it is already the largest airline.
Service between Boston Logan International Airport (BOS) and Hartsfield–Jackson Atlanta International Airport (ATL) will begin March 30, 2017. To celebrate JetBlue's 63rd nonstop destination from Boston – the most destinations of any airline at Boston Logan – JetBlue is launching with an introductory one-way fare of $47 (a) available starting today.
"Boston travelers have spoken, and we are listening by adding Atlanta to our route map and expanding our operation to 200 peak day departures," said Marty St. George, executive vice president commercial and planning, JetBlue. "After decades of being underserved by high-fare legacy carriers, Boston has an airline that is committed to offering the best service and most nonstop destinations of any other airline."
JetBlue will bring its recipe of low fares and award-winning service to four routes from Atlanta, a city that is dominated by two of the Big Four airlines. In addition to Boston-Atlanta flights, JetBlue also intends to add service between Atlanta and its focus cities of Fort Lauderdale-Hollywood, New York JFK, and Orlando.
The addition of Atlanta answers calls from both customers and crewmembers, which have made Atlanta JetBlue's most requested new destination. The new route will be especially attractive to JetBlue's Boston-based business customers who have long requested that the airline serve this important market.
"We are excited to welcome JetBlue to Atlanta," interim airport general manager Roosevelt Council, Jr. said. "This newest addition to our list of carriers will provide additional choice for our passengers and increase competition at the world's most traveled airport."
Flights between Atlanta and Boston will be operated on JetBlue's Airbus A320 aircraft featuring the airline's award-winning customer service with all-reserved comfortable seating; complimentary and unlimited name-brand snacks; more than 100 channels of free SIRIUSXM® radio programming and 36 channels of free, live DIRECTV® programming on personal seatback televisions; free Fly-Fi high-speed wireless Internet (b), and the most legroom in coach (c).
JetBlue has also built a rich portfolio of interline and codeshare agreements with nearly 50 airlines that help connect customers through Boston Logan and New York JFK. Customers taking advantage of the new routes will be able to connect to destinations throughout the world on carriers such as Emirates, El Al, Aer Lingus, Etihad, Qatar and Cape Air.
JetBlue Adds More Service Between Boston...
More