Well, it certainly has not been a dull start for the biotech sector so far in 2017. After a punk year for M&A activity in 2016, we saw three large deals announced across the industry in January. This helped trigger a 10% surge in this area of the market in February.
In March, we have largely consolidated gains and made several attempts to break through upward resistance levels that have been firmly in place since late in 2015. All of these efforts have failed to this point as we have seen a dearth of new M&A activity since January.
Although, I think this part of equities will outperform the overall market in 2017, even after delivering 18 months of significant underperformance through the end of 2016. That being said, risk management in this high beta part of the market is always critical to take some of the volatility out of your biotech portfolio.
Today, we are going to revisit one core part of good risk management, and that is allocation by what I call Tiers within the sector.
I think this is an important subject so I will give a basic description of each Tier and an example of an attractive biotech stock that currently resides in this tier.
Tier 1 – These are large cap concerns with both recurring earnings and revenue streams. This is where at least 50% of your overall biotech portfolio should be allocated. If you are more risk reverse, this allocation can be taken up all the way to 75% of a well-diversified biotech portfolio.
Stocks in this tier can largely be valued like other large cap growth plays from other sectors of the market, such as technology.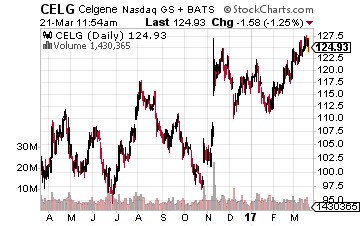 Example – Celgene (NASDAQ:CELG). Probably the easiest buy and hold large biotech stock for the next 3-5 years in the market in my opinion. The company has a blockbuster blood cancer drug "Revlimid" that did $7 billion in sales in FY2016 and should do $8 billion to $8.5 billion this fiscal year as it continues to be approved for new indications. It could be the best-selling...
More