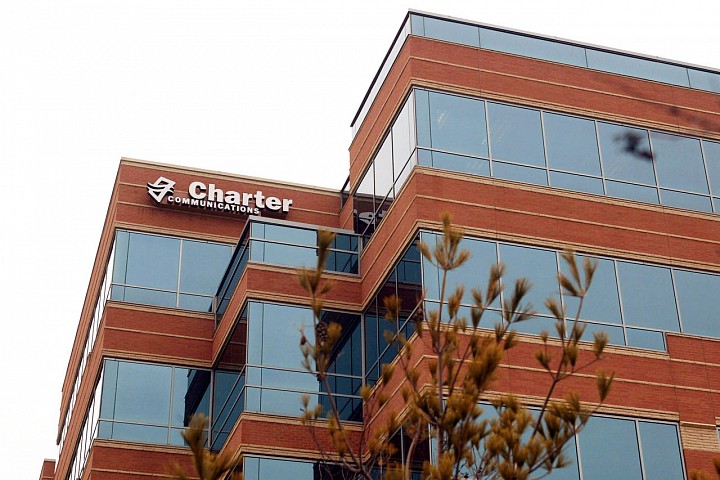 Peter Newcomb/Bloomberg News
This article first appeared on SumZero, the world's largest research community of buyside investment professionals. In some cases Barron's edits the research for brevity; professional investors can access the full version of this thesis and tens of thousands of others at SumZero.com.
Charter Communications (ticker: CHTR) is the second largest cable company in the United States. Headquartered in Stamford, Connecticut, Charter employs roughly 90,000 people. It offers television, telephone, and broadband services to customers within its markets.
Charter appears underappreciated by the marketplace, although its share price has almost doubled in less than three years. It is a monopolistic cash machine with almost certain growth potential that is trading at a very attractive price.
Profitability – Assessing the Record
From a total capital employed perspective, Charter is not highly profitable. After annualizing Charter's first quarter 2017 figures, Charter's pretax return on capital employed (ROCE) was a measly 5.6%.
Charter's "forward looking" capital productivity is much higher, however. Its largest asset is franchise rights ($67.3 billion), which are legacy assets that do not deplete. Therefore, franchise rights should be excluded. With that adjustment, Charter's pretax ROCE was 10.7%.
| | |
| --- | --- |
| Recent Price: | $348 |
| Target Price: | $560 |
| 52-Week Range: | $233-$355 |
| Market Cap: | $98.8B |
| Enterprise Value: | $153.77B |
| Total Cash: | $2.92B |
| Total Debt: | $62.84B |
| LTM P/E: | 19.23 |
| Forward P/E: | 71.33 |
| EV/Ebitda: | 11.76 |
More importantly, Charter's "forward looking" returns on tangible capital employed are even higher. Excluding goodwill and customer relationships, Charter's pretax ROCE was 25.5%.
Better yet, the recurring nature of Charter's revenue stream allows it to use a high degree of financial leverage, including a very large ($26.6 billion) interest free loan from Uncle Sam. As a result, Charter needs no tangible equity to operate.
The implication is clear. Charter's business generates exceptional "forward looking" returns on tangible capital while employing no tangible equity. Replicating Charter's infrastructure is prohibitively expensive, however. This and other barriers bar potential competitors from entering the marketplace and eroding Charter's returns. Understanding those barriers and other threats is the subject of the next section.
Direct Competitors – Competitive Advantages & Economic Moats
Competition between cable companies is extremely limited. First, cable companies (collectively, "cable") are granted "franchise rights" by local governments. This allows cable to utilize public right-of-ways to lay core infrastructure. In exchange, local governments receive a "franchise fee," which is capped by Federal Law at 5% of local revenue. Negotiating franchise rights requires a large amount of resources, especially time, which deters entry.
Second and more importantly, cable benefits from very strong economies of scale. It takes a tremendous amount of capital to lay core network infrastructure and the network's maintenance and upgrade expenses are fixed. Yet, there is little incremental cost for wiring an additional home or delivering an additional service. As a result, capital expenses per subscriber fall as the "penetration rate" rises, which gives an incumbent cable company a meaningful per subscriber cost advantage over potential entrants.
In fact, fixed costs are so high that local economies of size exist. In other words, local population density typically allows for only one cable company to earn satisfactory returns on capital. If two cable companies attempt to serve the same local population, both will suffer material capital impairments. Cable recognizes this and avoids direct competition ("overbuild" in industry jargon) with limited exception.
Third, switching costs are also at play. Once a subscriber's home or business is wired and set-top boxes are installed, the inconvenience of switching service providers is meaningful. As a result, poaching a subscriber requires significant price discounts. Already facing a huge upfront capital investment, a material per subscriber cost disadvantage, and uncertainty as to whether two cable companies can even be profitable, aggressively discounting services makes the idea of entry nauseating.
Thus, cable enjoys meaningful competitive advantages giving rise to wide and durable economic moats. This is important for the television side of the business, but it is...
More