Well we're off to a great start.  
I did an extensive reveiw of the OOP during our Live Trading Webinar on Wednesday (@ 38:35) where we looked over our current positions and determined we were well on track to gain another $60,000 (60%) next year but, of course, we won't be just sitting on our laurels – there will be lots of fun trades to make over the next 12 months.  
After our first year (we initiated the portfolio on Aug 8th, 2015) we are now the Top Performing Premium Portfolio over at Seeking Alpha and, in fact, our strategy is outperfomrning even America's best performing hedge fund (Gerbina Gold Group) by a wide margin.  In fact the 2nd best performing hedge fund is also a gold fund (AIS) and is only up 33.7% for the year – so our diverse portfolio portfolio using our "" philosophy is proving itself in this market.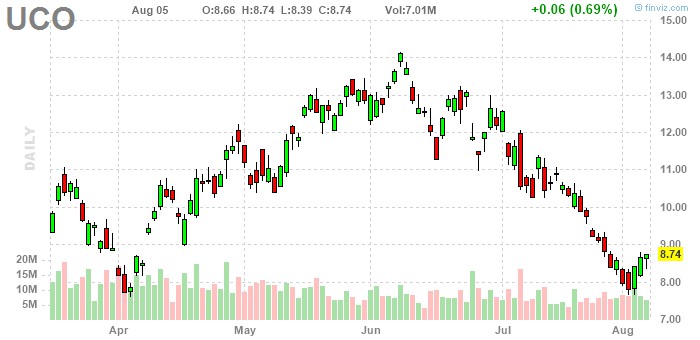 You can read more about that strategy in my January Forbes interview where, on page 4 of the interview, I gave an example trade from the OOP using a bullish spread on oil which was:
Buy 10 UCO July $5 calls for $3.70 ($3,750)

Sell 10 UCO July $10 calls for $1.55 ($1,550)

Sell 10 USO July $8.50 puts for $1.10 ($1,100)
Despite pulling back off the highs, UCO finished on expiration day (July 15th) at $10.91 so the trade expired in the money and returned $5,000 against the net $1,050 initial outlay.  That was up $3,950 (376% on cash) in 6 months.  With a portfolio full of trades like that – it's not too surprising we were able to outperform the market by a wide margin. 
Sadly, a lot of traders avoid options because they feel they are risky and they are – if you use them incorrectly but, as we explain in our system, since you can take the opposite side of these "risky" trades then you are able, to make "un-risky" trades as well, from the other side of the table.  This is not complicated – it's very simple and we have taught thousands of our students to do it over the years.  
Let's take a look at our initial trades from August 8th of last year in the OOP, when it was still called the 5% Portfolio – as our aim was to gain 5% per month.  Though our goal never changed, we wanted to make sure subscribers knew we were using options, not just stocks – so we changed the name.  
20 China ETF (FXI) Aug $45.50 puts at $1 ($2,000), expired Aug 21st at $8.96 ($17,920) for a $15,920 gain in 13 days. 
OK, that one was lucky and, in fact, we didn't make the full amount as we took it off the table before China completely collapsed but it was a hell of a good idea for our first trade and a great example of how you can use opptions to gain tremendous leverage WITHOUT taking on tremendous risk.  All those puts could do to hurt would be expire worthless and you would be out $2,000 and, as you can see, getting it right led to a 796% gain in less than two weeks.  
Obviously, we had know way to know China would completely collapse that quickly but we were very concerned about them as that market topped out at all-time highs for no particularly good reason (much like the US markets are this August!).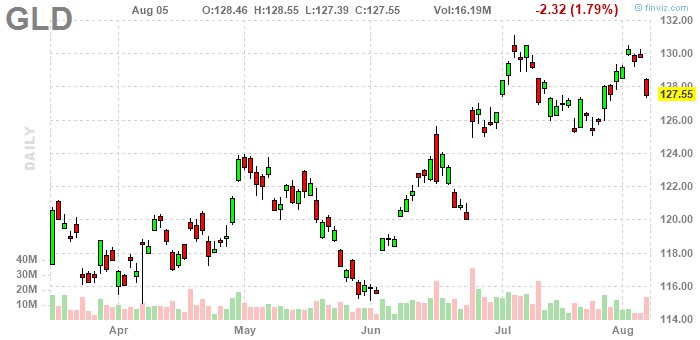 The second trade we initiated the OOP with was on gold, using the ETF (GLD) with the following bull call spread:
Buy 20 GLD Sept $104 calls for $2.50.
Sell 20 GLD Sept $106 calls for $1.50
GLD closed on Sept 18th at $109.21, entirely in the money for a $2 return ($4,000) against the $2,000 initial entry – up 100% ($2,000) in 41 days.  Again, this is not a complicated spread, we buy the $104s and sell the $106s so our gains are capped at $106 but our cost of ownership is greatly reduced and, again, the loss is limited to $2,000 as well.  See, options can be your friend!  
We were making aggressive, short-term trades early on as we wanted to build a cash base so we could move into safer, long-term positions.  At this point, our portfolio is 50% in cash ($91,095) but with plenty of solid long-term trades that we expect to perform well over the next 12 months – provided our markets suvive this August as well as they did last year (after much chagrin).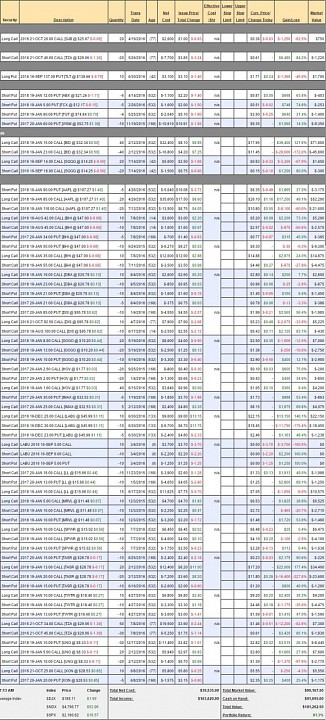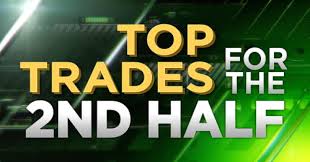 Our cash on the side will enable us to make some side bets on earnings but there are also plenty of longer-term stocks we're watching, as noted in our Live Member Chat Room on Friday as well as, of course, our PSW Watch List, which has another dozen or so good value names to play with.  
Our other virtual PSW Member Portfolios are doing very well too:
The Long-Term Portfolio was initiated on 11/26/13 at $500,000 and is now at $1,064,419 for

a 112.9% gain ($564,419) in 33 months

.
The Short-Term Portfolio was initiated on 11/26/13 at $100,000 and is now at $481,336 for

a 381.3% gain ($381,326) in 33 months

.
The Butterfly Portfolio was intitiated on 7/29/13 at $100,000 and is now at $275,635, for

a 175.6% gain ($175,635) in 36 months

.
All of our Member Portfolios are utilizing our "Be the House – NOT the Gamblier" strategy that keeps our portfolios well-balanced while collecting a steady stream of premiums to keep us positive in all but the worst market conditions and, since we haven't really had poor market conditions for years – they've performed exceptionally well – even better than bullish gold funds and, as noted above, Gold was one of the first bets we made in the OOP anyway!  
More recently (6/29), in the OOP, we added our Top Trade for 2nd Half of 2016: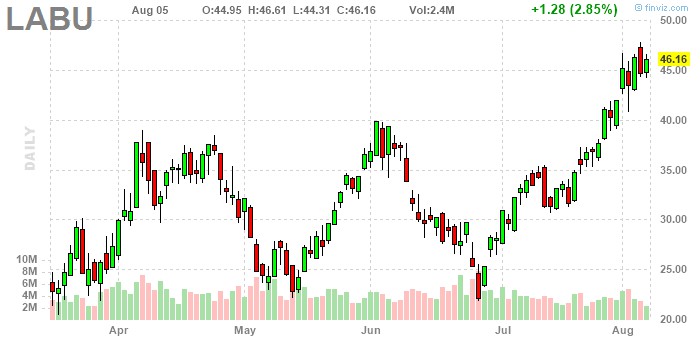 I do think the Biotech Ultra-Bull ETF (LABU) should be our trade of 2016.5.  It's mainly down because of VRX and fear of Hillary and, as I said, so many cool things being discovered.  In the OOP, we have the old contracts that are essentially a Sept $20/36 bull call spread (2.5 of them) with LABU at $27.50.  

As a new trade on LABU, I like selling the Dec $20 puts for $4.35 and buying the $25 ($7.50)/40 ($2.75) bull call spread for $4.75 so net 0.40 on the $15 spread that's $2.50 in the money to start.  Do 10 of those and your worst case is $20,000 worth of LABU vs maybe making $15,000 if IBB can punch up 15% after falling 30% since Dec, so a 50% recovery to $290 would do it.
That trade netted $400 cash for 10 spreads and, as you can see from the chart, LABU went off to the races in July and we're already well in the money and on our way to the full $15,000 return for a $14,600 gain (3,650%) by December if LABU holds up for us.  Meanwhile though, the net of the spread is only $7.70 out of a possible $15 so you can still make 100% between now and December, which is great for ordinary investors but just the scraps we leave on our options trade ideas! 
If you'd like to make 3,650% on trades rather than waiting to pick up our occasional scraps (which still make 100%), you can sign up for Membership at PSW right here, where you'll have access to all of our Member Portfolios or you can sign up at Seeking Alpha right here, where you'll have access to the Options Opportunity Portfolio.
Provided courtesy of Phil's Stock World.
Would you like to read up-to-date articles on the day they are posted? Click here to become a part of our growing community and learn how to stop gambling with your investments. We will teach you to BE THE HOUSE - Not the Gambler!