Back on September 28, when the specialty biotech drug scandal was just getting started and leading to a biotech bear market, Valeant stock suddenly plunged $50 leading to massive losses for its top holder Bill Ackman...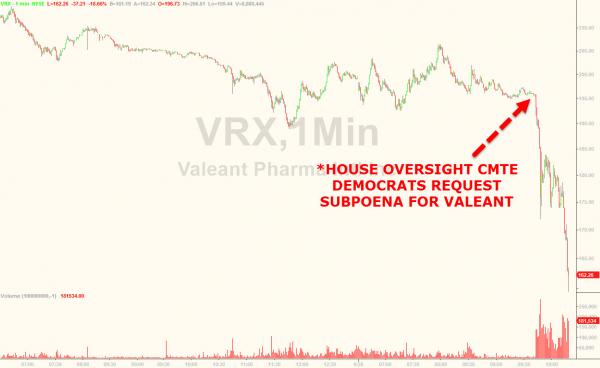 ... when it was revealed that House democrats had requested a Valeant subpoena. To be sure, the company promptly made it clear that an official subpoana had not actually been sent, just that some politicians were demanding one.
That changed overnight when Valeant issued a press release providing an "update regarding government inquiries", in which we learn that the subpoena is now official. To wit:
Valeant recently received a subpoena from the U.S. Attorney's Office for the District of Massachusetts and a subpoena from the U.S. Attorney's Office for the Southern District of New York. Most of the materials requested by the subpoenas relate to documents with respect to our patient assistance programs, and also include requests relating to financial support provided by the company for patients, distribution of the company's products, information provided to the Centers for Medicare and Medicaid Services, and pricing decisions. The company is reviewing the subpoenas and intends to cooperate with the investigations.

 

"All of us at Valeant firmly believe in maintaining strong regulatory and financial controls and believe we have operated our business in a fully compliant manner," stated Pearson. "We remain committed to assisting eligible patients who need our products, and we will be working with the appropriate groups to submit the requested documents and plan to cooperate with the inquiries."
The WSJ adds that "like many other drug companies, Valeant provides help to patients covering the out-of-pocket costs imposed by private health insurers. In 2014, Valeant spent $544 million on patient assistance, and expects to spend $630 million this year, according to a letter Valeant sent to Sen. Claire McCaskill (D., Mo.) on Wednesday."
Under federal law, companies can't provide such assistance to patients insured by Medicare or other government insurance programs because the help is considered an illegal kickback. To help patients afford their drugs and get reimbursed by payers, Valeant and other companies give funding to private foundations that independently help Medicare patients.

 

The company's drug pricing has drawn scrutiny from doctors, hospitals and Democrats in Congress after The Wall Street Journal reported in April about how it and some other companies buy and then significantly raise the prices of drugs. The article featured two drugs used in cardiac care, Nitropress and Isuprel, whose prices Valeant increased by 525% and 212%, respectively, after acquiring the medicines in February.
The WSJ implies that Valeant's drug inflation, which is unprecedented as we have shown before...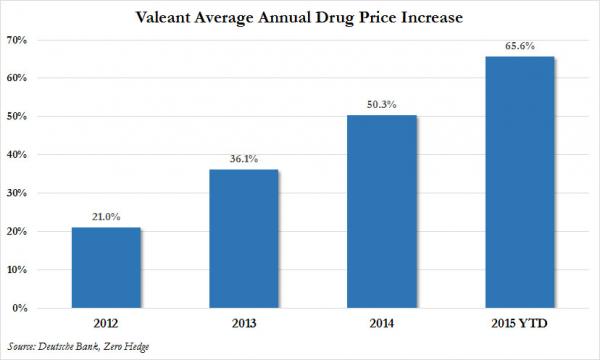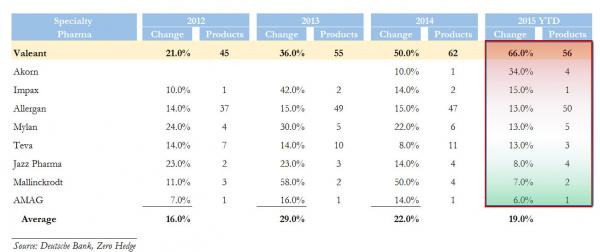 ... will be in Congressional crosshairs and may limit any incremental stock gains from here on out:
Since 2007, Valeant's drug prices have grown by a compounded annual rate of 48%, and the increases have offset declines in the volumes of drugs the company has sold, resulting in a net prescription-drug sales gain of 32%, analysts at Sector & Sovereign Research LLC said in a research note Wednesday.

 

These price hikes have made Valeant "one of the five largest contributors to" drug market inflation in the U.S. over the past 1½ years, Sector & Sovereign analysts wrote.
This was the be expected: we warned on October 4 that "More Pain For Biotechs Ahead: Valeant's "Astronomical" Price Increases Take Center Stage."
Sure enough, as of this moment, Valeant stock was crashng once again, down 9%, or $16 per share, which is more bad news for Bill Ackman, whose 20 million VRX shares means he is starting the day over $300 million in the hole.
Billionaire problems aside, what we are more interested in is where Valeant CDS will open for trading. As of two weeks ago it had blown out to multi-year highs in the mid-400s, and implied a 32% probability of default. Something tells us today's trades will look even uglier.