EUR/USD has been choppy indeed. The 4H chart shows the choppy decline in February. As we can see, price started to trade sideways once it hit a low around 1.0495. 

EUR/USD 4H Chart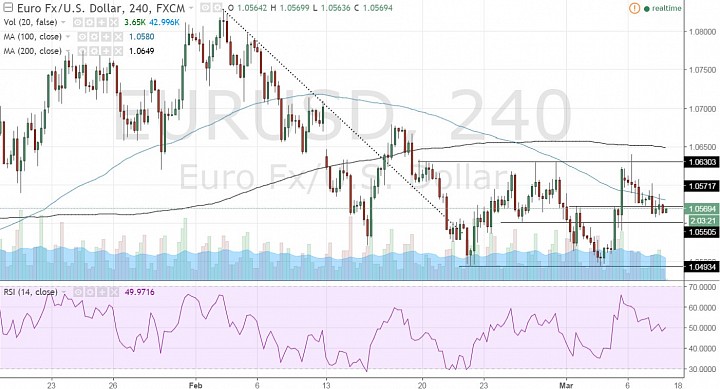 (click to enlarge)

Range:
- For the last couple of weeks, price has been held in a range between roughly 1.0495 and 1.0630. 
- Note that the 3/6 price action tried but failed to clear the 1.0630 resistance. 
- Now, price is back in the middle of the range.
Looking Bullish vs. Bearish Clues:
- IF price holds above 1.0570, and pushes above 1.0630, I would be convinced that EUR/USD has turned bullish.
- If price breaks below 1.0550, I would consider the bearish continuation scenario, but would also have to see how the market reacts around 1.0490-1.0495. 
- If I had to make a prediction, I think the recent failure to clear 1.0630 combined with a break below 1.0550 would make the 1.0490-1.0495 area vulnerable for a bearish continuation breakout.