European stock-index futures advanced as bets the Federal Reserve will continue to support the economy outweighed a slowdown in Chinese manufacturing growth.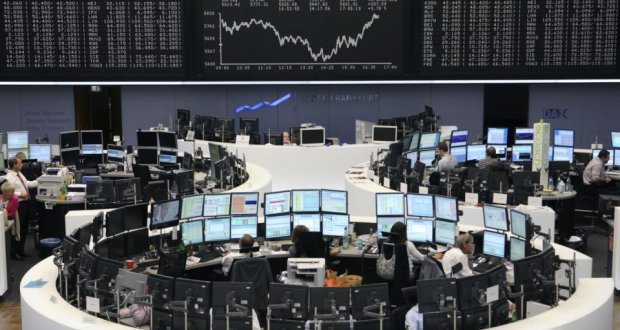 Nobel Biocare Holding AG may move after raising its 2014 profit-margin forecast. Royal Ahold (AH)NV may be active after reporting second-quarter earnings that missed analysts' estimates. Air Berlin Plc may move after posting a quarterly profit and saying it will reduce its capacity.
Futures on the Euro Stoxx 50 Index expiring next month climbed 0.2 percent to 3,089 at 7:38 a.m. in London. Contracts on the U.K.'s FTSE 100 Index rose 0.1 percent. Standard & Poor's 500 Index futures were unchanged, while the MSCI Asia Pacific Index dropped 0.2 percent.
"European equities are set to creep higher despite the negative cues lining up," Jonathan Sudaria, a trader at Capital Spreads in London, wrote in an e-mail. "Weak china manufacturing data overnight and expectations of weak PMI data for Europe this morning should have traders on the back foot. However, markets have developed a remarkable ability to shrug off the bad and have needle like focus on the positive, although what that is today no one's quite sure."
Fed minutes from its July meeting showed officials raised the possibility that stimulus might end sooner than anticipated even as they acknowledged persistent slack in the labor market. The Fed is on pace to wind down its bond purchases in October, and intends to keep the benchmark interest rate low for a "considerable time" after that. The S&P 500 posted a third day of gains yesterday after the release of the minutes as investors bet that Fed stimulus will continue amid uneven gains in the labor market.
China Manufacturing
A report from China today showed a manufacturing gauge fell in August by more than analysts estimated. The preliminary purchasing managers' index from HSBC Holdings Plc and Markit Economics slid to 50.3, trailing all 22 estimates in a Bloomberg News survey that had a median projection of 51.5. The measure dropped from July's final reading of 51.7 and, if confirmed on Sept. 1, will be a three-month low. Numbers above 50 indicate expansion.
In the euro area, the Markit manufacturing PMI to be released at 10 a.m. in Brussels may show that the pace of expansion slowed to 51.3 in August from 51.8 in the previous month, according to the median estimate of 32 economists surveyed by Bloomberg News.
Margin Outlook
Nobel Biocare may be active. The Swiss maker of dental implants expects to improve its margin on earnings before interest and taxes, excluding any non-recurring realignment costs, by about 150-200 basis points from 12.1 percent in 2013. The company earlier projected an improvement of 100 basis points. A basis point is one-hundredth of a percentage point.
Ahold may move. The Dutch retailer said underlying operating income fell 13 percent to 288 million euros ($381 million) at constant rates of exchange. The median estimate of 11 analysts surveyed by Bloomberg had called for 291 million euros. Operating income in the U.S. dropped 14 percent, while identical sales, excluding gasoline, fell 1.8 percent, more than analysts expected.
Air Berlin may move. Germany's second-largest airline reported a second-quarter net income of 8.6 million euros, compared with a loss of 38 million euros a year earlier. The company also said it will reduce its capacity by 10 percent.
via bloomberg