The global risk on mood (which is really anything but, and is merely an unprecedented short covering squeeze as we will report momentarily) launched by an abysmal jobs report one week ago and "validated" yesterday by the surprisingly dovish FOMC minutes, which said nothing new but merely confirmed what most knew, namely that a rate hike is almost certain to not occur until mid-2016 if ever, and accelerated by a Fed-driven collapse in the dollar which overnight has led to a historic 3.4% move in the Indonesian Rupiah the most since 2008, has pushed global stocks even higher in their biggest weekly rally since 2012, despite the start of an earnings season where virtually every single company reporting so far has stumbled on earnings reports that were far worse than even gloomy consensus had expected.
Furthermore, the return of the weak dollar/strong oil correlation means WTI has continued its surge and is trading back over $50 this morning (yes, for now Gartman is proving to be a better predictor than Goldman, which as we noted before expects a drop in crude back in $40 in the next 3 months), while other commodities such as zinc are literally flying, up some 10% or the biggest one day price gain in 26 years...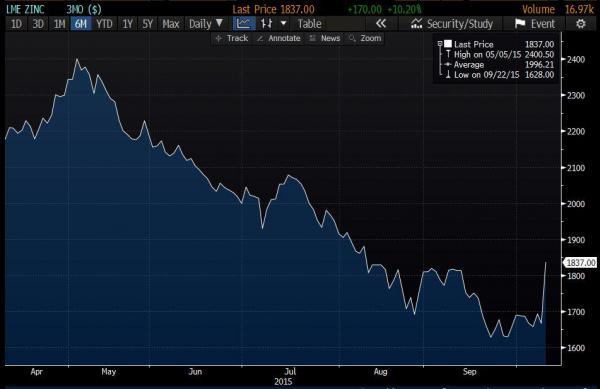 ... on news Glencore is laying off thousands and after cutting copper output, is also slashing its zinc output by a third. As Bloomberg reports Annual zinc output will fall by about 500,000 metric tons as Glencore suspends or cuts output from mines in Australia, Peru, and Kazakhstan, it said Friday in a statement. Global production was 13.3 million tons in 2014, according to the U.S. Geological Survey, making the reduction equivalent to almost 4 percent of world output.
The curbs will shave about 100,000 tons from its fourth-quarter output, Glencore said, while production of other metals including lead and silver will also be affected. Zinc, which helps protect steel from corrosion, rose as much as 9.4 percent on the London Metal Exchange, the most since October 2008. Prior to Glencore's announcement, it had fallen 23 percent this year.
"Glencore is showing industry discipline by cutting unprofitable tons and saying it is worth more value to leave the tons in the ground," Heath Jansen, a Citigroup Inc. analyst, wrote in a report Friday. "We expect assets to remain out of production until zinc prices improve materially and stay higher." As a reminder, Glencore did the same thing over a month ago with copper production, and the rebound likewise was vicious. The issue for Glencore is that the company will now generate even less revenue, and even less cash flow, which means it will be even more reliant on short-term funding to plug the "rationalization" shortfall. For now the stock, which just doubled from its recent receord low of under 70p, seems to like the development.
Back to global markets where the dollar is getting smashed across most pairs, including the EUR which this morning triggered buying stops and surged to the highest level since September 18, however the one other currency that has weakened even more is of course the Yen, as the USDJPY continues to be the marginal and very levered global risk on indicator, one where the Bank of Japan continues to be dominant. Keep an eye on the USDJPY which will once again levitate the S&P futures with it tick for tick in today's last for the week, and very illiquid, session.
A quick run through the markets starting in Asia, shows stocks trading broadly higher. Hang Seng (+0.5%) and ASX 200 (+1.3%) were led by strength in commodity names with the former set for its best week since April, while Nikkei 225 (+1.6%) also advanced, although was the underperformer due to losses in its largest weighted stock Fast Retailing (-9%) after downbeat earnings. Elsewhere, Shanghai Comp. (+1.3%) extended on yesterday's gains amid reports that insurers may raise overseas investments. Finally JGBs traded flat heading into its extended weekend despite the firm risk appetite in Asia, while the BoJ's "JOMO" meant the central bank purchased another JPY 1.18 trillion in bonds from the market.
Oddly enough, while stocks have blasted off on Fed dovishness, this has not spread to fixed income products which have failed to benefit from the dovish release which was largely focused on the uncertain macroeconomic situation in China and traded lower, with Bunds underperforming USTs in early European trade. However it is worth noting that China's Yuan and CNH has since stabilised and the spread between the two has narrowed (which was an issue to policy makers before). WSJ has also noted that investors appear to be gaining confidence in Beijing's intentions determining the CNY's value.
European equities initially opening higher in line with their global counterparts after the release of dovish Fed minutes, before coming off their best levels but remain in positive territory (Euro Stoxx: 1.0%). On a sector specific breakdown, energy and material names outperform in line with strength in global commodities, which benefitted from a weaker USD on the back of the aforementioned Fed minutes.
As noted above, in FX it has been all about USD weakness stemming from dovish FOMC release failed to weigh on USD/JPY, which instead traded higher as market participants continued to speculate over further easing by the BOJ . Of note, press reports earlier in the week noted that the possibility of a stronger JPY amid reduced expectations of a Fed rate lift-off could prompt the Bank of Japan to further ease monetary policy.
Fed's Williams (Voter, Hawk) said that he saw September FOMC decision a close call and that September payroll report was consistent with his outlook. William further added that the global outlook has not deteriorated since the prior meeting and that if there is a shock in the future, negative rates, QE and forward guidance could be considered.
Finally, also driven by the collapse in the dollar (against all but the Yen "carry" trade), overnight global commodities saw a bout of strength, benefitting from a weaker USD on the back of the aforementioned Fed minutes, with WTI crude futures breaking above the USD 50 handle for the first time since the beginning of September. Elsewhere, gold retook the USD 1150 handle, while platinum outperforms up over 2.5% in the session.
Going forward, today will see market participants get to digest the release of the latest Canadian jobs report, US wholesale inventories data, as well as any comments from Fed's Evans and Lockhart.
Bulletin Headline Summary from Bloomberg and RanSquawk
Equity markets have traded higher with global stocks set for their biggest weekly rally since 2012 amid the rebound in energy prices and the dovish Fed minutes
USD weakness stemming from dovish FOMC release failed to weigh on USD/JPY, which instead
traded higher as market participants continued to speculate over further easing by the BOJ
Today's highlights include the latest Canadian jobs report, US wholesale inventories data, as well as any comments from Fed's Evans and Lockhart
Treasuries heading for loss on the week amid gains in stocks and oil; market focus turning to retail sales, producer prices and consumer prices data next week.
3Q earnings season began as Alcoa, suffering under the weight of a global aluminum glut, reported results that missed analysts' estimates after the price of the metal fell for a fourth straight quarter
Margin debt in freefall is another reason to worry about S&P 500, according to Doug Ramsey, CIO of Leuthold Weeden Capital Management LLC, whose pessimistic predictions came true in August's selloff
Deutsche Bank is selling a CDS trading portfolio of more than $250 billion, with JPMorgan among several banks in talks, according to two people familiar with the matter
John Cryan, Deutsche Bank's new boss, delivered a harsh message to shareholders and employees: Europe's biggest investment bank isn't worth what it once was and can't pay them what they're used to
Germany's Angela Merkel is causing a storm at home with her open-door policy for refugees alienating political allies and a skeptical public; approval ratings lowest in almost four years
Commerzbank sees a 20% chance of a crash in China's corporate bond market by year-end, while Industrial Securities Co. and Huachuang Securities Co. are warning of an unsustainable rally
Credit Suisse, Pimco and Citi say recent gains in EM currencies will prove fleeting, and most forecasters agree: all 23 EM currencies tracked by Bloomberg are projected to weaken against the dollar by the 1Q
Glencore Plc plans to cut zinc production by about a third, after already curbing copper and coal output, as it navigates the commodity collapse that last week briefly wiped $6b from its market value
With just four weeks to raise the U.S. debt limit or risk default, House Republicans are careening into chaos, with no clear leader, no path to pick one and open warfare among factions who blame each other for the party's plight
Turkey's Erdogan, on first official visit by Turkish head of state to Brussels, found his demand for support for a "safe zone" in Syria unmet while EU President Tusk lashed out at the use of the refugee crisis as "a political bargaining chip"
ECB should refocus its ABS purchases program on the peripheral countries most in need of its help, according to Pimco
Sovereign 10Y bond yields slightly higher. Asian and European stocks higher, U.S. equity-index futures decline. Crude oil, copper and gold rise
US Event Calendar
8:30am: Import Price Index m/m, Sept., est. -0.5% (prior -1.8%)
Import Price Index y/y, Sept., est. -11.2% (prior -11.4%)
10:00am: Wholesale Inventories, Aug., est. 0% (prior -0.1%)
Wholesale Sales, Aug., est. -0.4% (prior -0.3%)
Central Banks
9:10am: Fed's Lockhart speaks in New York
1:30pm: Fed's Evans speaks in Milwaukee
DB's Jim Reid completes the overnight event recap
Not a lot was happening in markets yesterday and it took until the release of the FOMC minutes for risk assets to continue their strong run in Q4 so far, as the S&P 500 eventually closed the session +0.88% and CDX IG tightened a couple of basis points. With regards to the minutes, in particular it was the text stating that 'recent global economic and financial developments had imparted some restraint to the economic outlook and placed further downward pressure on inflation in the near term' which grabbed most of the attention. Committee members also noted that compared with their previous forecasts, more officials now saw the risks to inflation as tilted to the downside. Meanwhile, while there were the usual supportive comments around the state of the labour market, there was also mention of the strengthening dollar and possible effects of slower economic growth in China and emerging markets as restraining economic activity.
In fact, the mention of China's slowdown and concerns around emerging markets was a bit of a recurring theme yesterday having been mentioned in the ECB minutes and BoE statement too. The former in particular noted that 'the euro area economic recovery was expected to continue at a somewhat slower than previously anticipated pace, largely reflecting the slowdown in emerging market economies' and that there was therefore a need for the ECB to monitor closely all relevant incoming information 'with respect to potential implications for the monetary policy stance and for the outlook for price stability'. In a similar theme, the minutes noted that lower commodity prices, recent Euro strength and lower than expected growth in the region had 'increased the downside risk to achieving a sustainable path of inflation towards 2%'.
Over at the BoE, after voting to hold rates (as expected) on an 8-1 majority, the committee made mention to 'a deterioration in the global demand environment' which could slow the pace of expansion further, making special mention to the slowdown in emerging markets and China. Despite some dovish tints in the statement, BoE Governor Carney, speaking later in the day, offered a slightly different angle saying that timing of a Fed move is not decisive for timing of the BoE, making mention in particular that over the course of five rate cycles since the UK adopted inflation targeting, the BoE has moved before the Fed in two of them. Carney was also slightly more hawkish on the inflation outlook, noting that 'importantly we are seeing building wage pressures' and that 'you can achieve your inflation target even in the face of some very large external forces'.
Turning now to the latest in Asia this morning where markets have generally followed the lead from the gains late in the US session yesterday. Strength has been broad based across the region, with the Hang Seng (+1.70%) and ASX (+1.03%) in particular posting strong gains. China has continued to firm up post its break, with the Shanghai Comp +0.45% while elsewhere the Nikkei (+0.78%) and Kospi (+0.68%) are also higher. There's been an impressive rally in credit markets morning, with CDS indices in Asia and Australia 5-6bps tighter.
The strong quarter-to-date for Oil markets continued yesterday. WTI finished the session +3.39%, briefly passing the $50/bbl mark intraday where it's not closed above since July. Brent closed firmer too, up +3.35% to the highest level since August 31st as prices found some support on the back military conflict between Russia and Syria and seemingly better sentiment around the supply and demand picture. The rest of the commodity complex was generally softer, Gold finishing down half a percent and the likes of Aluminum, Copper and Zinc off a percent.
The softness in Aluminum prices was attributed to a fairly disappointing set of results out of Alcoa last night, unofficially kicking off earnings season in the US on a down-note after missing at both the revenue and earnings line with shares down 3% after-market. As we noted yesterday earnings season is due to kick up a gear next week with the banks in particular due to report.
Moving on, yesterday's sole data release in the US yesterday saw initial jobless claims fall 13k last week to 263k and the lowest level since July 18th. With the moves in Oil and the better data, US Treasury yields nudged higher with the benchmark 10y eventually finishing +3.7bps at 2.105%, with the brief sharp move lower post the release of the FOMC minutes quickly erased. The Dollar was bit more mixed with little obvious direction during the session as the Dollar index eventually closed down 0.19%.
There were some contrasting comments from Fed officials yesterday. Minneapolis Fed President Kocherlakota reiterated his particularly dovish view, saying that he does not see raising the target fed funds rate above its current low level either this year or next as being consistent with the pursuit of the kind of labour market outcomes the Fed is charged with delivering. Kocherlakota even went on to say that he would 'be open to the possibility of reducing the fed funds target range even further'. This was in stark contrast to the San Francisco Fed President Williams who reiterated his view that the Fed should hike this year and that in his own view there is little real information about a significant downturn in the global outlook. His comments largely reflected those made on Tuesday.
Prior to this, European markets extended their run of recent gains yesterday with the Stoxx 600 closing the session +0.19%. European credit markets continue to grind tighter too with Crossover another couple of basis points tighter. Yesterday's data in Europe was centered in Germany and its latest August trade numbers. The numbers made for disappointing reading however as exports slumped during the month (-5.2% mom) after expectations (-0.9% mom) for only a small drop. This was in fact the strongest MoM slump in exports since the start of 2009. Our colleagues in Europe noted that this poses a downside risk to their Q3 net trade contribution to the GDP forecast. However, they also noted that the external weakness should be compensated by strong private consumption which benefits from the oil price slump, high net migration and solid real wage growth.
Looking ahead to today, the early data in Europe is out of France where we get the August industrial and manufacturing production readings. Shortly after this we'll get the August trade balance reading for the UK along with construction output. In the US this afternoon we've got the September import price index print along with August wholesale inventories and trade sales readings. Fedspeak wise today we've got Lockhart (due at 2.10pm BST) speaking on the US economic outlook and Evans (due 6.30pm BST) speaking on monetary policy. Also potentially of interest will be the IMF's Lagarde speaking again at the annual meeting tonight.