Pinnacle Foods Inc.'s PF strong portfolio, robust acquisitions and efficient productivity remain its strengths. The stock has increased 2.7% in the past three months compared with the Zacks categorized Food–Miscellaneous/Diversified industry's decline of 4.2%. However, the company's shares have been facing pressures lately.
We note that in the past month, shares of Pinnacle Foods have declined 4.6%. Analysts believe that shunned merger speculations with Conagra Brands, Inc. CAG may be one of the primary reasons behind the fall. We also observed that sluggish Specialty segment and Pickle business coupled with increased expenses have also impacted the company's performance.
Let's delve deeper and try to find out what's taking this Zacks Rank #4 (Sell) company downhill.
Speculated End of Deal with Conagra
Talks of possible acquisition of Pinnacle Foods by Conagra Brands have come to a conclusion and it is believed that the two firms have no plans to join hands. If market sources are to be believed, the deal talks which began since May 31, 2017, was shunned within a few days due to price disagreement between the parties.
However, the management of Pinnacle Foods has not provided any official statement on the supposed deal. The share price of Pinnacle Foods has fallen 3.7% approximately, since speculations of this merger to remain immaterialized began making rounds.
Specialty Segment and Pickle Business under Pressure
The company has witnessed sluggish net sales and adjusted EBIT for the Specialty segment since the last three quarters, despite solid growth in the Snacks business. Due to a highly competitive and bidding environment for the already low-margin USDA stew business, the company continues to expect Specialty to remain challenged through 2017.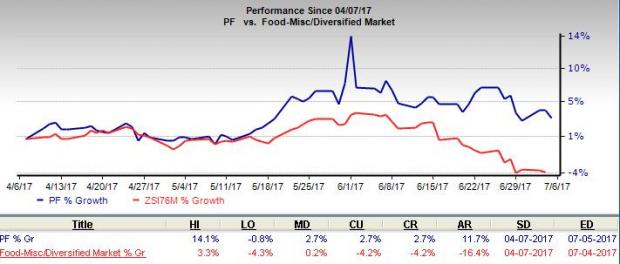 Pinnacle Foods witnessed sluggishness in its Pickle business due to continued category weakness and a heightened competitive environment over the past several months. The competition has increased in the form of pricing and innovation, which has put pressure on Vlasic pickles. Though innovation and in-store support for the brand is rolling out in the second-quarter 2017 and is expected to strengthen trends in the second half of the year, we believe the turnaround might take some time.
Higher Expenses
Regular innovations and related introductory costs have been increasing the company's expenses. Higher expenses were also caused by the enhanced overhead structure of the Boulder business. Increased investment in consumer marketing and input cost inflation also adds to the expenses.
Other Headwinds
Consumer buying patterns are shifting for grocery products due to macroeconomic weakness. This has resulted in a decline in industry volumes. Severe increase in inflation is adversely impacting the company's profits.
Estimates Moving South
We note that estimates for the second-quarter 2017 have declined in the past thirty days, although it remained stable for fiscal 2017. Moreover the company carries a VGM Score of "D," which indicates that the stock is not favorable at the moment.
Still Interested in the Space? Check These Stocks
Investors may consider better ranked stocks from the same sector, such as Constellation Brands, Inc. STZ and Aramark ARMK, all carrying a Zacks Rank #2 (Buy). You can see the complete list of today's Zacks #1 (Strong Buy) Rank stocks here.
Constellation Brands has an average positive earnings surprise of 11.7% for the past four quarters, with a long-term earnings growth rate of 18.2%.
Aramark has an average positive earnings surprise of 4.5% for the last four quarters and a long-term earnings growth rate of 12%.
Today's Stocks from Zacks' Hottest Strategies
It's hard to believe, even for us at Zacks. But while the market gained +18.8% from 2016 - Q1 2017, our top stock-picking screens have returned +157.0%, +128.0%, +97.8%, +94.7%, and +90.2% respectively.
And this outperformance has not just been a recent phenomenon. Over the years it has been remarkably consistent. From 2000 - Q1 2017, the composite yearly average gain for these strategies has beaten the market more than 11X over. Maybe even more remarkable is the fact that we're willing to share their latest stocks with you without cost or obligation. See Them Free>>
Want the latest recommendations from Zacks Investment Research? Today, you can download 7 Best Stocks for the Next 30 Days.
Click to get this free report
Constellation Brands Inc (STZ): Free Stock Analysis Report
ConAgra Foods Inc. (CAG): Free Stock Analysis Report
Pinnacle Foods, Inc. (PF): Free Stock Analysis Report
Aramark (ARMK): Free Stock Analysis Report
To read this article on Zacks.com click here.
Zacks Investment Research