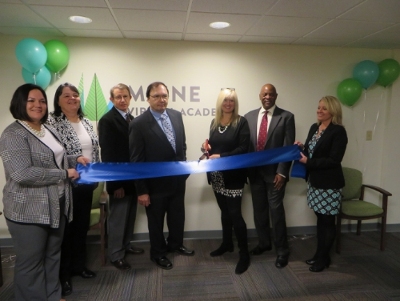 BALLARD, Maine, Oct. 21, 2015 /PRNewswire-USNewswire/ -- Maine Virtual Academy (MEVA), a new statewide online public charter school, celebrated its inaugural year with a ribbon-cutting ceremony and tour of its new offices in the Ballard Center on October 20th. On hand for the ribbon cutting were representatives from the Maine Virtual Academy Board of Directors, teachers, and school staff.
MEVA uses an innovative education model -- incorporating online lessons and instruction delivered by teachers -- that is individualized to meet each students' educational goals. The state- certified teachers provide direct instruction to students and monitor students' progress, attendance, and content mastery, and work in partnership with parents. MEVA's team of educators and school leaders are based at the school's administrative headquarters.
MEVA is authorized by the Maine Charter School Commission and is governed by an independent, nonprofit board of...
More