Following his outburst at the "independence" of the Turkish Central Bank earlier this week (which crashed the Lira), President Erdogan has opened his mouth again this morning...
*ERDOGAN: TURKEY NEEDS NEW CONSTITUTION AND PRESIDENTIAL SYSTEM, and
*ERDOGAN SAYS PEOPLE SHOULD RESEARCH NEW YORK TIMES OWNERS
So the blame for his nation's weakness is an independent central bank and the NY Times... The Lira just passed 2.47 to the USDollar - a record low.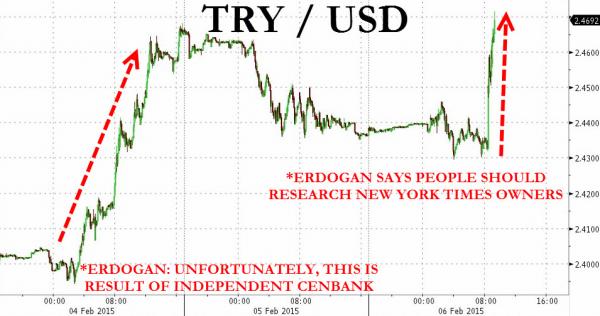 It appears SocGen was right... The honeymoon is over
Turkey was supposed to be the big trade of the year. After all, it did look particularly good at some point, with the sharp decline in inflation and the collapse in oil prices. Somehow, Turkey had become the new darling of global emerging markets (GEM).

 

Fast forward a month or two and this is now all over.

 

So what happened? Essentially, a big policy error on the part of the central bank in the context of serious political pressures. The emergency meeting saga caused tremendous damage to the credibility of the policy framework and to investor confidence.

 

I am in the US visiting investors right now, and nobody is bullish on Turkey any more.

 

Last time I was there, everybody was. If I had been in the governor's shoes, I would have stayed quiet and continued easing normally at each scheduled meetings. Nothing wrong with that, and in fact, Mr. Market was going to love it. I would also have looked up the definition of "emergency" in the dictionary.

 

The TRY selling off by 2% each day, causing serious stress in the local financial market? An emergency.

Inflation declining a bit faster than usual, helped by fortunate external factors? Not an emergency.

 

Overall, this was a highly disappointing experience and now the CBRT has moved to my list of "fading" central banks from that of the "following" ones. What I mean by that is I want to position for policy backtracking in Turkey at this point, given the heightened risk of policy volatility. Our 1s5s curve steepener has been struggling quite a bit, as it was a bullish trade on market-friendly policy easing. We just elected to close it at flat PnL.

 

Meanwhile, I believe that positioning is still heavy on the Turkish bullish side, even if sentiment has sharply deteriorated, which represents a major technical risk.
*  *  *